Brenda shares her allyship journey
June 23, 2022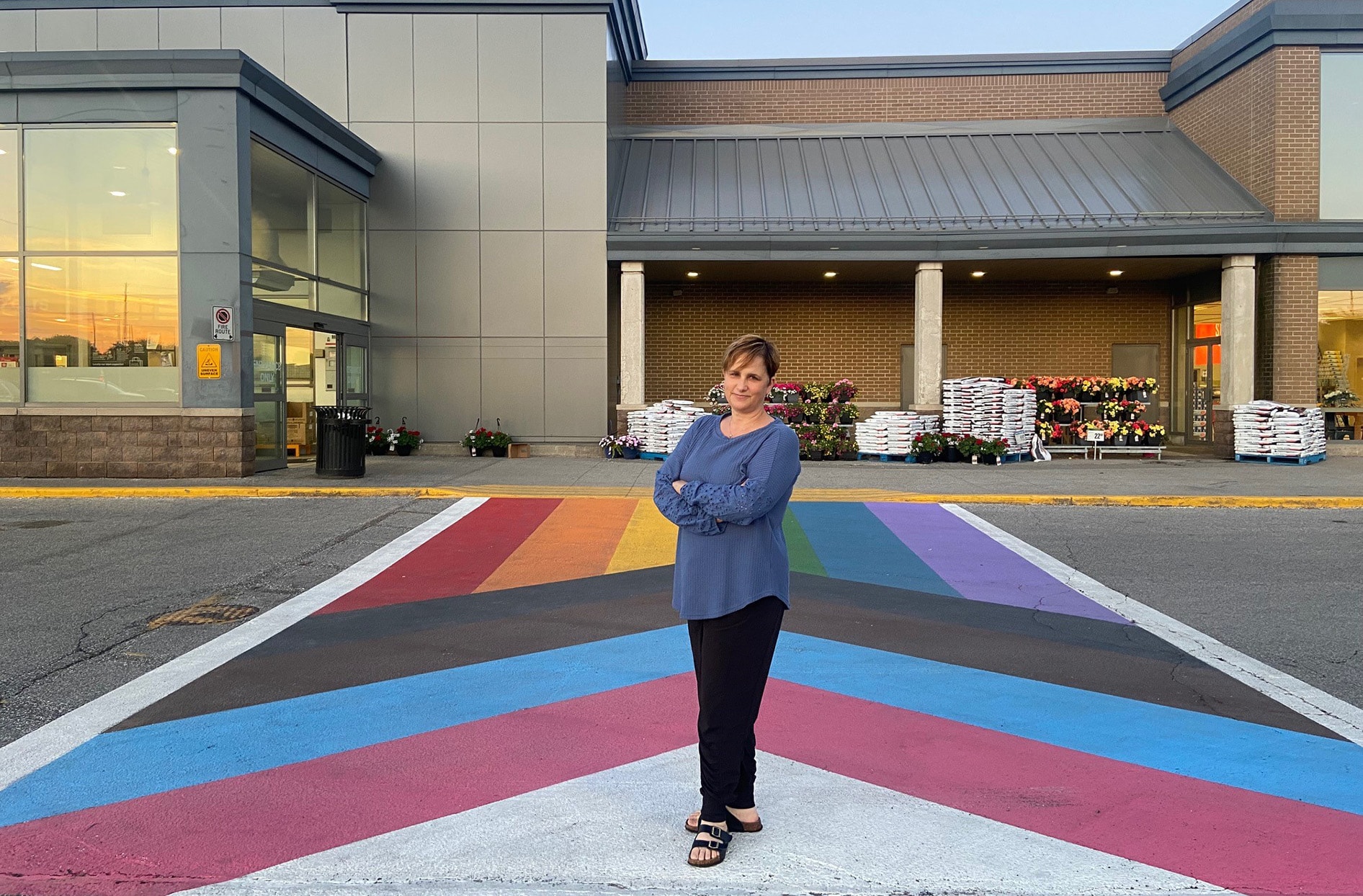 Brenda Bot-Drake flies her Pride flag year-round. 
It all began when she visited her husband's parents in the small town of Kincardine, Ont. She noticed the community, home to about 11,000 people, had a Pride parade, a rainbow crosswalk, and businesses with Pride flags in their windows.  
"I thought, why don't we try that where I live?" says Brenda, a part-time cashier at Zehrs® in LaSalle, a larger community near Windsor, Ont. 
So began her advocacy for 2SLGBTQIA+issues. This month, thanks to Brenda's efforts, her store is unveiling a rainbow crosswalk—the first Zehrs in Canada to do so." Zehrs in LaSalle has been extremely generous and supportive of Pride initiatives," she says.   
In the breakroom at her store, Brenda created a Pride bulletin board that she updates every month with a different theme. "One month, the board focused on pronouns and colleagues had the option to add their pronouns to their name tag. Another month, it was about coming out and where to turn for support."  
Last year, Brenda organized a Pride fundraiser at the store, where colleagues and customers alike could learn about the2SLGBTQIA+community and buy flags and temporary tattoos.  
"I spoke to a lot of parents who told me this was just what they needed—that they had a child who came out and they wanted to learn how to support them," she says. "One mom thanked me with tears in her eyes. One of my biggest goals is to let kids in LaSalle know that we care about them—they're appreciated, they're welcome here." 
Brenda's efforts led her to another local mother, Nancy, who started Run for Rocky. The annual charity event is held in honour of Nancy's son, who was openly gay and died by suicide in 2012. 
This summer, Brenda and Nancy are launching LaSalle Proud, a campaign that will create a widespread Pride presence in their community. They're offering diversity training to businesses, congregations, and families, distributing pamphlets on how to be an ally, and offering "safe-space" decals that people can put on their front doors. 
For Brenda, what does it mean to be an ally? "First of all, you have to have a very open heart," she says. "You can't be close-minded. Everybody's story is different, but we're all human and we all need love and support. Be welcoming to everyone."  
She also recommends giving back to your community—both she and her husband volunteer at Trans Wellness Ontario. 
"A lot of people think that, on their own, they can't make a difference," Brenda says. "But you can! Look at me, a little ol' cashier. You can have an impact—you just have to be persistent." 
If you or someone you know is in crisis or considering suicide, confidential support is available 24 hours a day, 7 days a week by way of the Canada Suicide Prevention Service (833-456-4566) or the Employee and Family Assistance Program (1-800-743-5949).