Celebrate summer with PC Ube Boba Cream Pie
May 18, 2023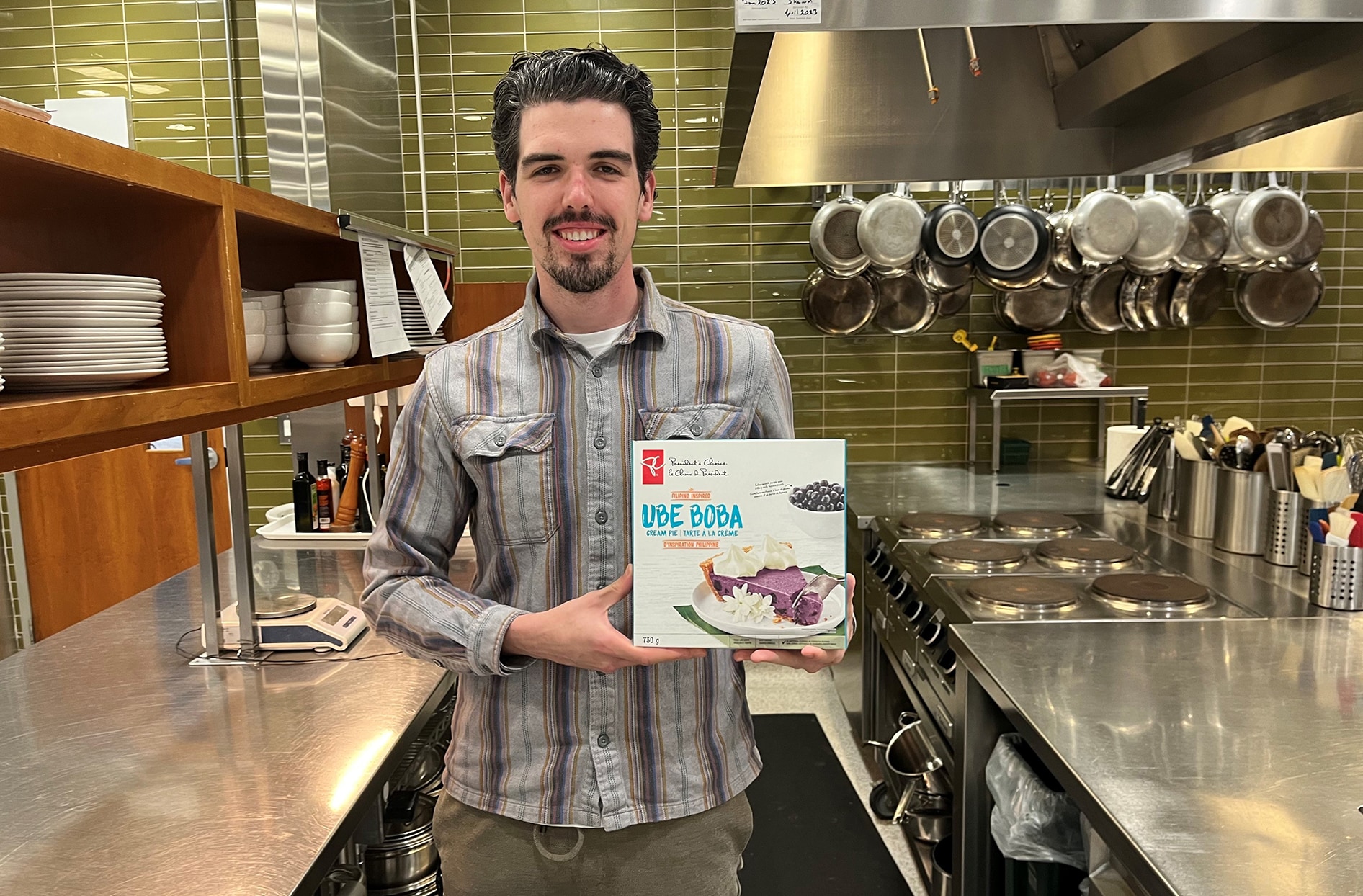 You've never had anything quite like it. That's what product developer Ryan Hay says about the new PC® Filipino inspired Ube Boba Cream Pie, included in this year's PC® Insiders ReportTM Summer Edition.  
With a graham-cracker crust, filled with tapioca pearls and a silky-smooth purple coconut milk base, and topped with whipped cream, the pie is a masterpiece of textures. 
"When you cut the pie and find the tapioca pearls inside, it's like opening a treasure chest," Ryan says. "The inspiration came from halo-halo, which is a traditional Filipino dessert, and also from bubble tea, which is really popular." 
Ryan has loved watching his family members' reactions as they take their first bite. "I would love to be able to see Canadians' reactions, as they try it and realize this is probably their new favourite dessert." 
Ryan started at Loblaw 10 months ago, and he's been developing the pie—and other products—since his first day. The process starts with an idea, then an exploration of different concepts and flavours. Market research helps inform product development too; for instance, Filipino cuisine is a current Canadian trend.   
Then Ryan and his team work with vendors to bring the products to life, taste-testing and tweaking many different iterations. "I've tried the cream pie probably 30 times," he says with a laugh.  
His team also created PC Filipino Inspired Ube Pandesal Buns, which are in the PC Insiders Report Summer Edition too. These buns, like the pie, are unique—they're brown on the outside and purple on the inside.  
"PC has always been known to challenge the norm and put products out there that are very creative and unique," Ryan says. "I've dreamed of working at Loblaw as I worked elsewhere in my career, because this is the pinnacle of development."  
Even before he started at Loblaw, he was eager to see the PC Insiders Report Summer Edition.  
"It tells you what the trends are," Ryan says. "If you didn't know that Filipino food was a big trend, it can open your eyes and expose you to a whole new world of cuisine that you weren't aware of before." 
This summer, he's most excited about the PC Ube Boba Cream Pie—of course—and also the PC Black Label Umami Wagyu Burger and PC Classic Street Cart Sausages. 
Ryan used to work as a chef, and feeding people is what makes him happy.  
"It's so gratifying to know that products we developed will be in the PC Insiders Report Summer Edition  and that people across the country will be trying them. I hope they love them as much as I do."  
Learn more about the PC Insiders Report Summer Edition, which includes products such as PC Carolina Gold Pork Back Ribs, PC Cookie Dough Ice Cream Bites, and PC 4- Layer Loaded Pierogi Dip, here.