Chemicals and antibiotics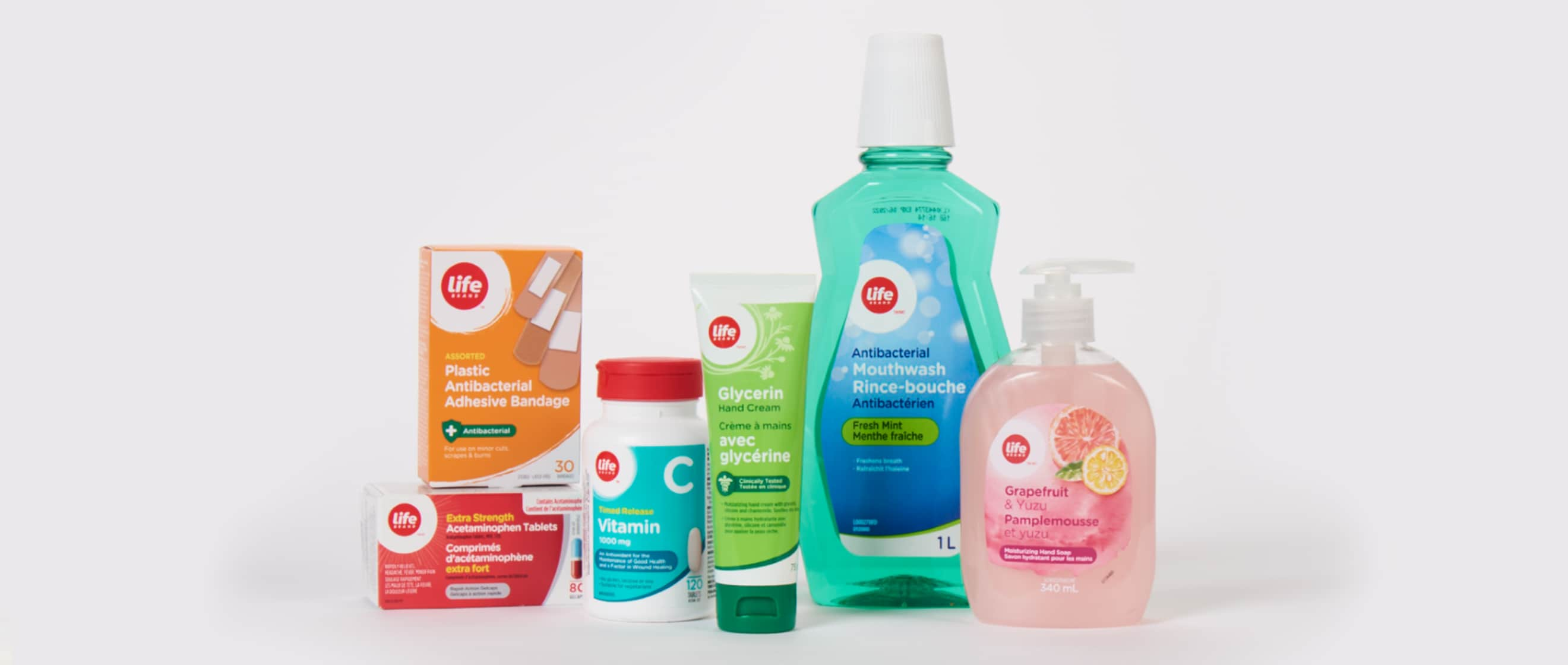 Our customers want the products we sell to be safe and responsibly sourced. This means upholding our values throughout our supply chain, promoting safe and sustainable products, and supporting Canadian suppliers.
Chemicals of concern
Loblaw is committed to ensuring the highest levels of safety and quality. All of our control brand non-food products such as household cleaners, health and beauty, paper products and baby and personal care needs are carefully formulated and safe when used as directed and are produced to meet or exceed Canadian Government Standards and Guidelines. We partner with industry, scientific, and academic advisors to ensure our formulas and ingredients are selected to be safe and effective.
We recognize that some consumers are becoming increasingly more concerned about the ingredients in their personal care and household cleaning products. Although some ingredients may be considered safe, as supported by science, we are committed to listen to the voice of our customers and where possible offer choices that meet our customer's expectations.
We formulated our Life Brand and President's Choice household, beauty and cosmetic products without triclosan, phthalates and plastic microbeads in 2018, and have encouraged our suppliers to identify and eliminate phthalates that may come from other sources such as manufacturing equipment or packaging.
Antibiotics
Ten years ago, we made a commitment to bring you meats raised without the use of antibiotics or added hormones when we launched the PC® Free From® line of products.
You may also have heard about how the use of too many antibiotics in the food system, may contribute to them being less effective for all of us. Not because you are eating antibiotics, in Canada the government and animal welfare experts approve the good use of antibiotics for treating animals that become sick, and regulate the safe return of that animal to any rearing program. But, there is growing evidence of the larger, more complex concern of anti-microbial resistance.
That's why we've partnered with farmers who are innovative in raising animals without the use of antibiotics, and share our vision of making meaningful progress towards a solution. Together we are giving you a choice you can feel good about.
Our PC® Free From® animals are strictly raised without the use of antibiotics and, like all poultry and pork in Canada, are raised without the use of added hormones too. But animal welfare is top of mind, so if an animal within our PC® Free From® program does become sick, the animal is treated and simply moved into a conventional animal rearing program and do not become part of our PC® Free From® program.
Want to know more? Here are links to international and national statements about the subject:
Antimicrobial Resistance Conference(Open in a new tab)
Genetically Modified Organisms (GMOs)
At Loblaw, we are dedicated to helping customers feed themselves and their families in ways that meet their personal standards.
We understand that some customers prefer not to consume foods containing GMO products. For those customers, Loblaw offers a large selection of organic food as an alternative. Certified organic ensures that products are not only grown without the use of pesticides, but also from non-GMO seeds.
We know this remains an important topic for some customers. We have an internal task force that meets with industry experts to advise and inform us on the topic and we are committed to continually track developments related to GMO and GE foods, and to offering our customers thoughtful food options — take our PC® OrganicsTM(Open in a new tab) line for example.
Got questions?
Want to learn more?
Contact us
esg@loblaw.ca

(Open in a new tab)
As a part of our culture of integrity, it is important that non-compliant and unethical matters are reported.
Call the Integrity Action Line: 1-800-525-7868 (available in English, French, Mandarin, Cantonese, Punjabi, Spanish and Korean languages); or visit www.integrityactionline.com (available in English, French and Spanish languages).