Giving Tuesday: Rabie 'pitches' an idea to help feed kids
November 29, 2022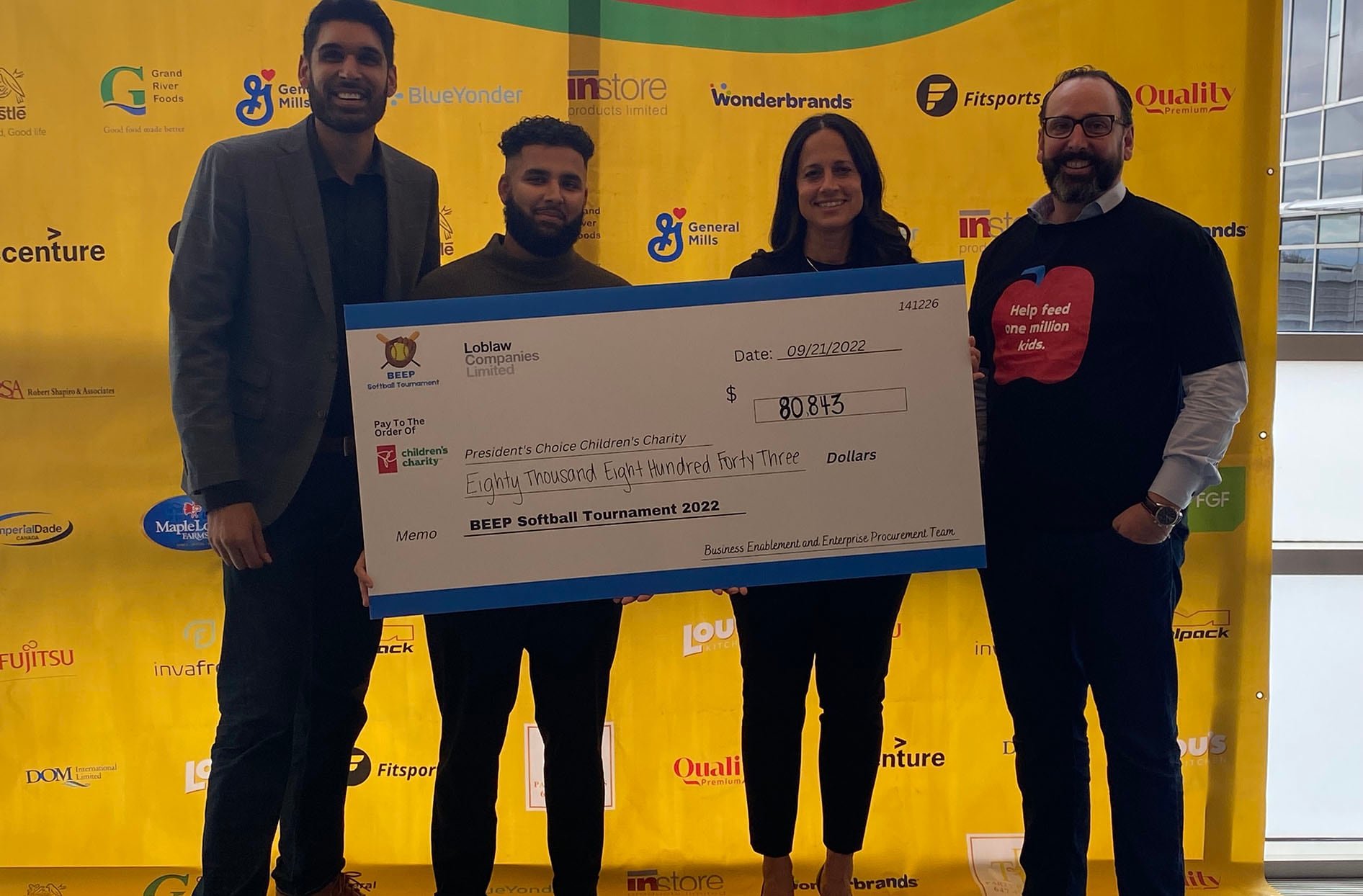 Rabie Shah, Senior Analyst, Labour Management on the BEEP (Business Enablement and Enterprise Procurement) team hadn't been at Loblaw long when he got inspired to create a charity softball game that would connect his colleagues and express Loblaw's purpose by helping the community. 
The idea came out of a coffee chat with a student through a networking session with his team. She told him she had participated in President's Choice Children's Charity's Power Full KidsTM meal program in elementary school and that access to consistent food allowed her to focus on learning. While she had interned at other accounting firms in the past, she really wanted to work at the kind of company that would invest time and money in making kids' lives better. 
"Hearing about how that student was so positively impacted by the charity's Power Full Kids program when she was a kid, felt really good to be representing a company that supports them," he says. "I had done some volunteering with food access organizations during the peak of COVID and I knew I wanted to continue that purpose. I help organize sports leagues in my spare time, so after speaking with this student, I decided to bring those two ideas together."  
Once he had an idea, the first step was to take it to Harpal Hundal, Senior Director, Enterprise Operations who was immediately supportive. Rabie was coached on how to flesh out the idea before he presented it to BEEP's Senior Vice-President Mike Rinaldi and his leadership team, who became 'team captains' in the months-long planning process. He chose softball for its inclusivity, and because it felt like a new idea. 
This was no small undertaking and required dedication and time from Rabie and the BEEP team. Together, they got to work on securing permits from the City of Brampton, booking a venue and reaching out to vendors to ask about sponsorships and food donations. Next up, creating a portal where colleagues could register to raise what he initially hoped would be $20,000. Instead, thanks to the 200 colleagues and partners who either played or attended and tons of big-ticket raffle items, the tournament raised over $80,000.  
"Loblaw colleagues are the beating heart of the charity," said Lisa Battistelli, the Executive Director of President's Choice Children's Charity, "Rabie and his team continue a tradition of giving that has made it possible for the charity to nurture the wellbeing of more than 6.8 million children since 1989." 
 It's an understatement to say this is a result Rabie is proud of. But he's not done yet.  
 "I don't want to solely focus on my career and my own life, I want to do something to help people, too. I had this goal and made a promise to myself to help the community in some way and this donation to President's Choice Children's Charity will help many children." he says. "This was step one. We're already planning for next year."  
This Giving Tuesday, make your own pitch and join Rabie by supporting President's Choice Children's Charity's mission to feed one million kids each year. Give online through Workday or at, www.pcchildrenscharity.ca