Kim's powerful canoe journey
August 9, 2022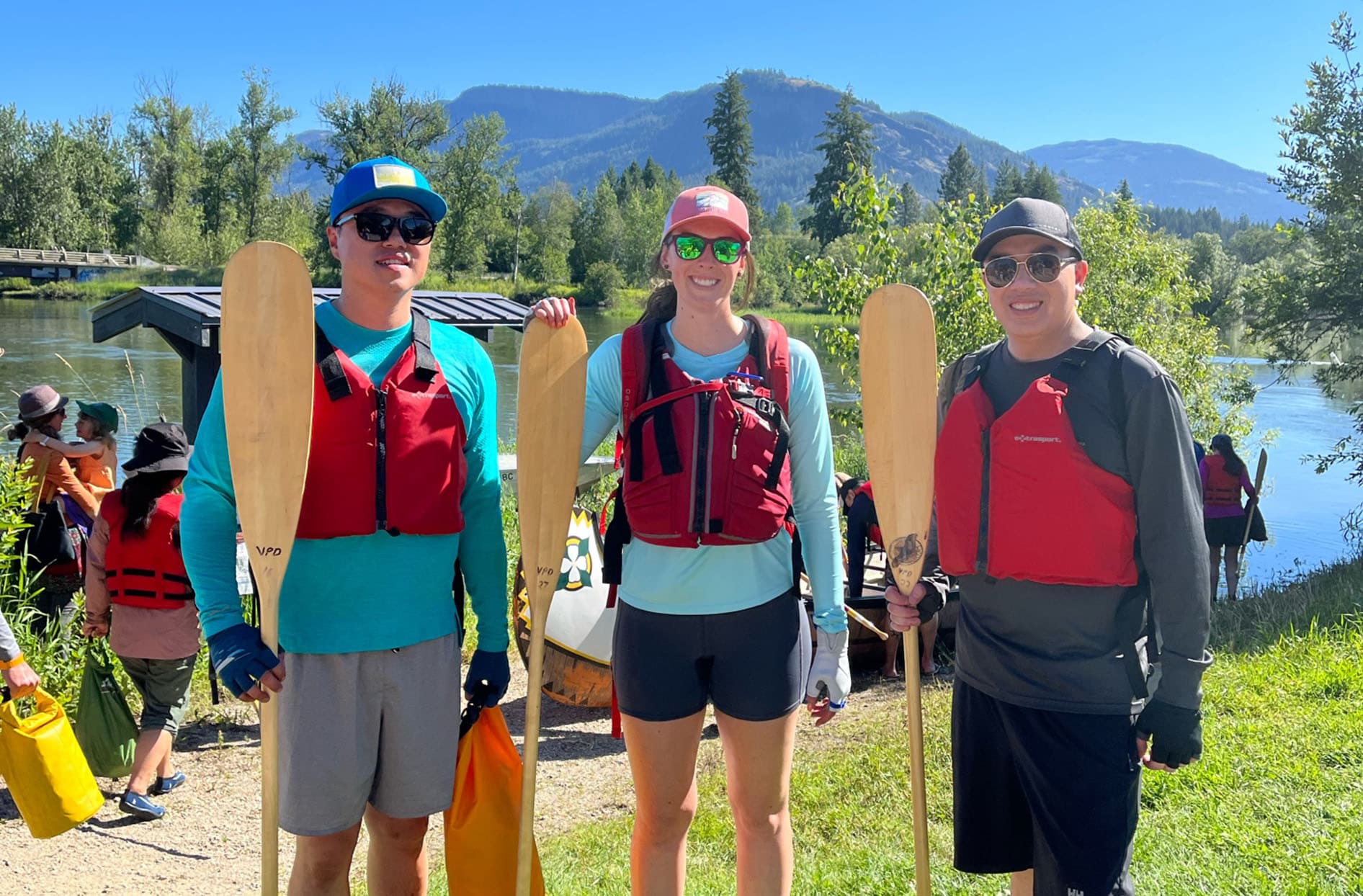 When Kim Mills heard about a canoe journey through British Columbia that aims to create understanding between Indigenous communities and public-service agencies, she was in.  
"I love giving back to the community, I like developing different partnerships through my work, I want to learn more about Indigenous culture, and I'm a pretty outdoorsy person, so everything about this was my cup of tea," says Kim, a District Asset Protection Manager based in Edmonton.  
From July 11 to 14, Kim and two other colleagues joined the annual Pulling Together Canoe Journey, along with about 350 people, including members of the RCMP, Vancouver Police Department, Search and Rescue, the Coast Guard, and Indigenous communities. The purpose of the event is to enhance the relationship between Indigenous Peoples and these public service agencies.  
They paddled together in massive canoes, shared meals, listened to elders' stories, and learned about the culture and traditions of First Nations people in the Shuswap region. 
The experience was very meaningful for Kim, whose mother is Inuit and grew up in Happy Valley Goose Bay, Labrador.  
"As a child, I never got to experience my mom's side of the family or Inuit culture," she says. "To be able to go on this canoe journey and witness First Nations culture was amazing for me, especially since it wasn't something that was shared with me as a child but more so as I grew older."    
As Kim gets older, she's hearing more stories from her family. She learned recently that when her grandfather was 12, his community moved their entire village by canoe to Happy Valley Goose Bay.  
"I thought of him often on my canoe journey—it's hard to imagine going upstream in a canoe laden down with all the gear they must have carried with them," she says.  
This was the first time Loblaw participated in the Pulling Together Canoe Journey—thanks to an invitation from the Vancouver Police Department.  
"I am very grateful that we were able to participate in this initiative on behalf of Loblaw and show our support," says Ed Chiu, District Asset Protection Manager in Vancouver, who also went on the trip.  
Ed and Kim worked with stores in B.C.'s Lower Mainland to gather thousands of dollars in store donations to feed the paddlers. It was a perfect opportunity for the team to work hand in hand with stores for a good cause, Kim says.  
That was one of her big takeaways from the canoe journey—the power of teamwork. "When you're in a canoe with 23 people, you have to make sure your arms are locked and straight and you're pulling the water together," she says. "It's so important to be in sync and encourage one another. It's a very powerful feeling."