Releases
December 20, 2018
Loblaw recalling Life at Home® 50 Count Indoor Icicle Microdot Lights
BRAMPTON, ON, Dec. 20, 2018 /CNW/ - Out of an abundance of caution, Loblaw Companies Limited is voluntarily recalling Life at Home® Indoor 50 Count Icicle Microdot lights with the UPC 058703561861 and model number RKPO-UL05010001P44-1 due to a potential manufacturing defect. No injuries have been reported and no other lights are affected.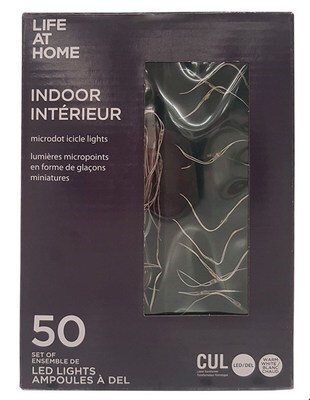 847 units of the product were sold between September 1 and December 20, 2018 at the following locations:
Ontario: Fortinos®, Loblaws®, No Frills®, Real Canadian Superstore®, Valu-Mart®, Your Independent Grocer® and Zehrs®
Atlantic: Dominion® and Atlantic Superstore®
Québec: Maxi®, Maxi & Cie®, Provigo® and Provigo le Marché®
West: Extra Foods®, Real Canadian Superstore®, Real Canadian Wholesale Club®, Your Independent Grocer® and No Frills®
See attached photo.
All affected products have been removed from store shelves. Customers can return the product to the place of purchase and the customer service desk will provide a full refund, with or without a receipt.
We sincerely apologize for any inconvenience this recall may have caused. The safety of customers is our primary concern.
SOURCE Loblaw Companies Limited