Loblaw supports young entrepreneurs fighting food waste and food insecurity
December 7, 2022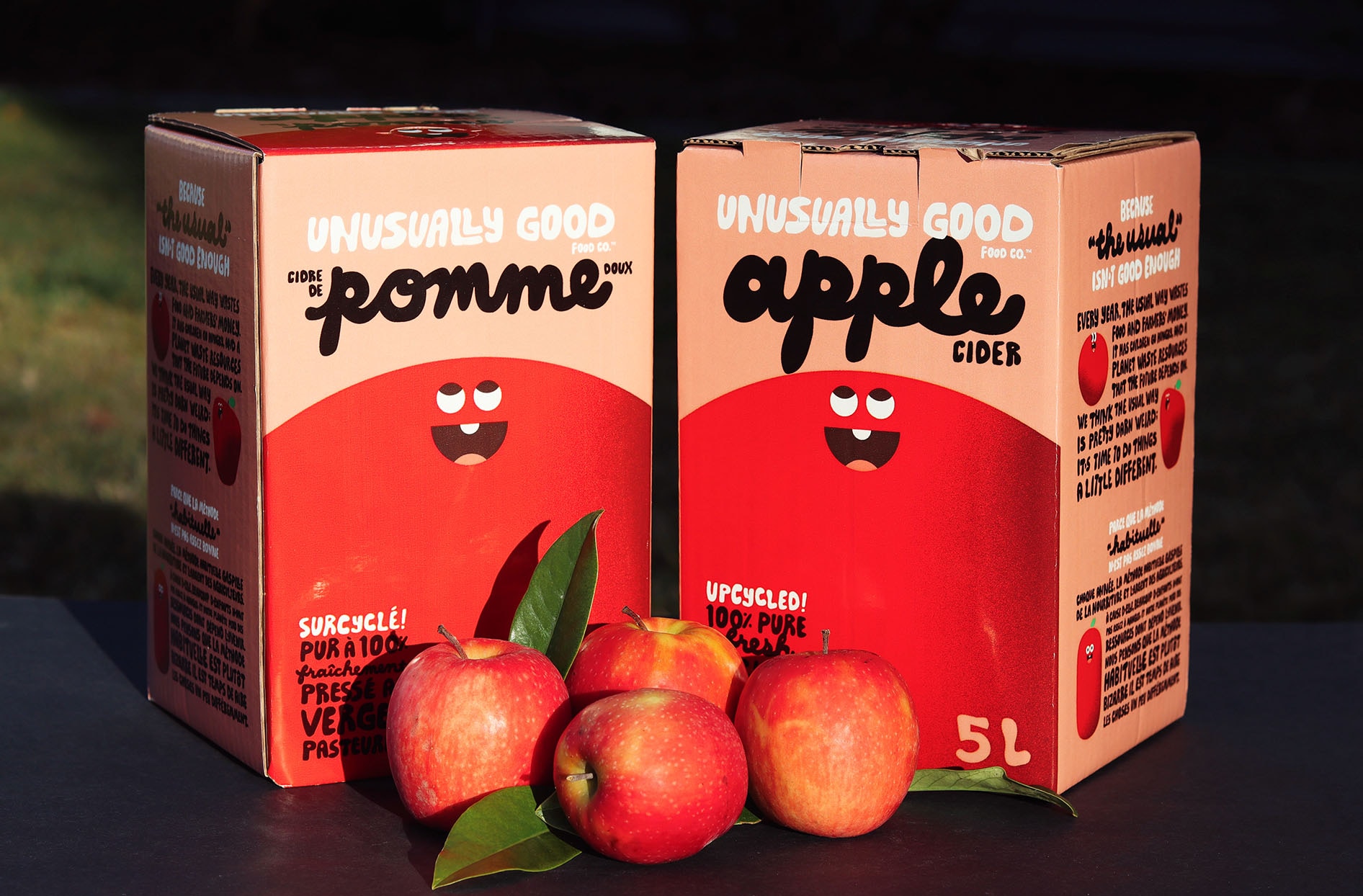 For many involved in the grocery industry, food waste might seem like an unfortunate but inevitable part of the business. But a group of students at Okanagan College in British Columbia is hitting back at that idea with a venture that turns the unwanted (too big, small, or unusually shaped) apples deemed unfit for sale into a sold out apple juice. "When you have a glass of their apple juice, it's like tasting a piece of apple pie," says Peter Boyd, owner of Peter's Your Independent Grocer in Kelowna, which stocks the product. "The products are delicious – and it's helping showcase Loblaw's alignment with innovative brands that are making an impact." 
Unusually Good Food co. does more than help combat the problem of food waste however. Using the revenue generated from the juice, they're helping to fight food insecurity - both important commitments for Loblaw - by turning some of those apples into dehydrated apple chips and donating them to kids in need. This year their apple chips will help feed 22,000 students across 51 schools in the Okanagan Valley — an increase of 590% over the previous year says Mandi Kohout, Unusually Good's project manager.  
Dubbed a social enterprise, Unusually Good is owned by the Enactus OC, the college's chapter of Enactus, which is an international organization that connects students, academics and business leaders through entrepreneurial-based projects that create a positive impact in their communities. Interested business students can join their school's chapter and get involved with an existing project or form a new one. That means a chapter can have many enterprises on the go at one time. This year, Loblaw joined forces with Enactus Canada to support initiatives like these through the PC Financial Resilience Project Accelerator which supports university students in building resilient financial education programs for underserved populations across Canada. The program awards six teams across the country with $2500 grants to advance their projects and pairs them with an advisor from the bank.  
The Enactus organization also holds an annual competition to identify the most promising ideas. After winning the national event, Unusually Good's team recently returned from Puerto Rico where they emerged as one of the top four in the world.  
"It was truly mind-blowing experience to make it to the top four. There are so many amazing Enactus teams and it has been so inspiring to see how the different projects address some of the world's most pressing needs," Mandi says.  
For her part, Mandi joined Enactus OC and Unusually Good in the fall of 2021 as Vice-President, Finance. When the former project manager graduated this summer, she stepped into the role. "I had become quite involved in the day-to-day and quickly fell in love with the impact Unusually Good was having," she says.  This handover is part of the process with an Enactus enterprise. But thanks to their academic advisors and the knowledge passed on from team member to team member, they are able to keep the projects going, Mandi explains.  
"Watching them become such a force has been amazing," says Peter, who was introduced to the team through one of the team's academic advisors. "The future is so bright for Canada when you have brilliant minds that can see value in something other people don't."