One million bags for one million kids
September 29, 2022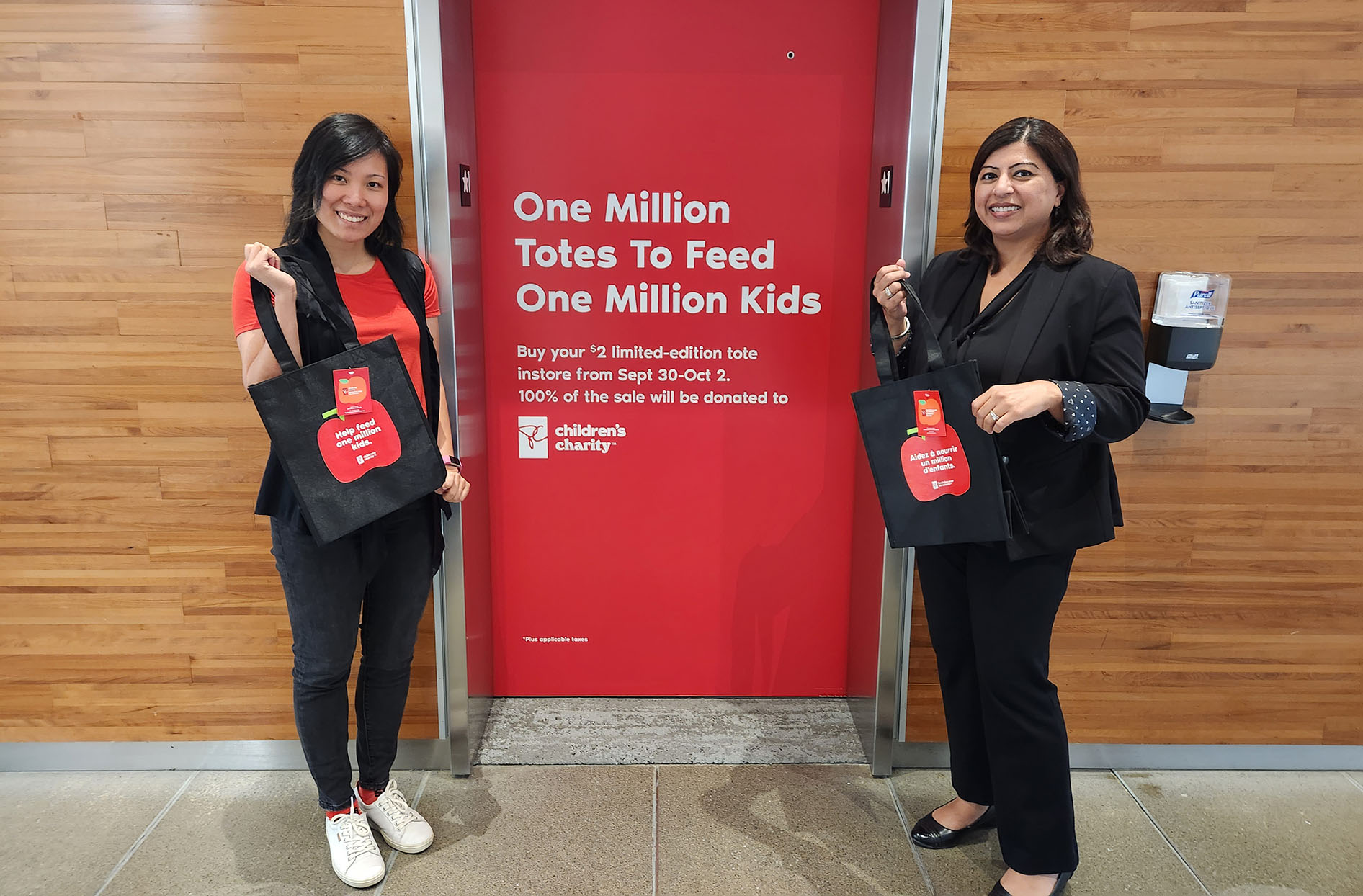 How are we going to help President's Choice Children's Charity (the "Charity") feed 1 million children every year? That's the question Shahla Mulji, Senior Category Director for Omnichannel at Loblaw and her colleague Rebecca Lu, Senior Director, Strategic Projects and Programs, were tasked with answering for the inaugural Million Hungry Minds campaign.  
"It's not as simple as putting food into a box," explains Rebecca. "There are a lot of intricacies to designing these kinds of campaigns alongside different partners; We needed a tangible fundraising goal."  
That goal — $4-million — is not a small sum, but once they had that number, "we got to brainstorming," Rebecca says. That's how much more the Charity needs to increase its current reach, 800,000 kids in 2021, to 1 million annually by 2025. 
With more than a decade of planning and executing programs and projects for Loblaw's discount division, the duo had the right kind of experience to see this endeavour through. That's one reason why outgoing President of Discount and President's Choice Children's Charity board member, Jocyanne Boudreau approached them for this mandate. "Jocyanne has served on the Charity's board for a decade, so she is familiar with the need in our communities and that this initiative needed a lot of support," says Shahla, who at the time was working with Rebecca to support programs, projects and processes for the company.  
Fundraising is much more complex than asking people for money. "We already have a ton of activities during the year; We had to consider things like donor fatigue and when to fit it in," says Rebecca. They also had to consider how the campaign would come to life in each of Loblaw's banner stores.  
The fall back-to-school season seemed like the perfect time for a Charity fundraising event. The Charity, through its Power Full KidsTM program, provides Canadian children with healthy, nutritious meals and snacks during the school year and in the summer, while also teaching them how to cook. Its new goal is to feed one-million kids every year by 2025.  
While Shahla and Rebecca's team looked at several ideas for customized products they could sell as part of the fundraiser, they ultimately settled on a tote bag.  
"We really liked the simplicity of the bag: one million bags for one million kids," says Shahla. Emblazoned with the Charity's bright red apple, the messaging on the $2 tote is clear to anyone who purchases one.   
Loblaw is generously donating 100% of the sale proceeds directly to the Charity. "That's something we're really proud of," Shahla says.  
As part of the campaign, the Charity will also receive $0.25 for every box of PC®mini muffins and bag of PC® The Decadent® cookies sold over one week during the event. 
"The limited-edition tote is really the anchor of the campaign… but in order to mobilize customers and colleagues, we needed to ensure that there were other events and activities to help support it. " PC ExpressTM for instance will make a donation to the Charity for every $100 spent through the grocery delivery service, while the discount division will be holding one of its three Save it ForwardTM events during the campaign. For the first time, the market division will hold a new event with select vendors, who will also donate a portion from every participating item sold to the Charity. 
For Rebecca and Shahla, working on the campaign was more than just another project.  
"The stats around child hunger in Canada blew my mind. But getting that education helped drive home that this is really for the children. No matter what was happening in our day jobs, we knew we had to prioritize this," says Shahla.  
Get your limited edition tote today! For every $2 tote purchased between September 30 to October 2, you can help feed one million kids. 100% of the purchase price will support President's Choice Children's Charity's Power Full KidsTM programs. For more information or to give, visit www.pcchildrenscharity.ca(Open in a new tab).