Real Canadian Liquor Store opens doors in Saskatchewan
New model of liquor store opens in Saskatchewan, providing residents with increased convenience and choice under one roof
YORKTON, SK, Oct. 9, 2018 /CNW/ - Today, Loblaw Companies Limited (TSX: L) announced the opening of a Real Canadian Liquor Store in Saskatchewan. The first of its kind in the province, the store will provide spirits, wine and beer from best-selling international brands and favourite local producers.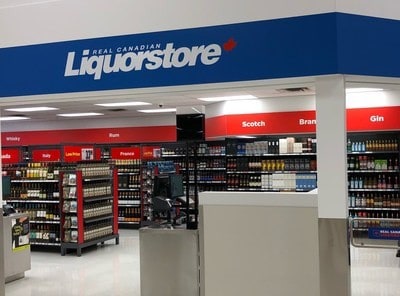 "Saskatchewan customers come to our stores looking for outstanding flavours and meal inspiration," said David Harrington, Vice President, Loblaw Companies Limited. "With the launch of this unique store offering, customers now have increased convenience and choice, all within one shopping destination."
Customers in Yorkton will be the first to experience the new store model, which opened this morning in the Real Canadian Superstore on Broadway St. and will provide a range of demonstrations and tasting opportunities for customers.
The store boasts a broad assortment of more than 300 types of spirits, 500 varieties of wine, and 300 beer and cider options. Continuing the company's commitment to local sourcing, the Real Canadian Liquor Store will dedicate shelf space to Canadian producers, in order to increase access for local suppliers.
About Loblaw Companies Limited Loblaw Companies Limited is Canada's food and pharmacy leader, and the nation's largest retailer. Loblaw provides Canadians with grocery, pharmacy, health and beauty, apparel, general merchandise, financial services, and wireless mobile products and services. With more than 2,400 corporate, franchised and Associate-owned locations, Loblaw, its franchisees, and Associate-owners employ approximately 200,000 full and part-time employees, making it one of Canada's largest private sector employers.
Loblaw's purpose – Live Life Well – puts first the needs and well-being of Canadians who make one billion transactions annually in the companies' stores. Loblaw is positioned to meet and exceed those needs in many ways: convenient locations; more than 1,050 grocery stores that span the value spectrum from discount to specialty; full-service pharmacies at more than 1,250 Shoppers Drug Mart® and Pharmaprix® locations and more than 500 Loblaw locations; PC Financial® no-fee banking; affordable Joe Fresh® fashion and family apparel; and three of Canada's top consumer brands in Life Brand®, no name® and President's Choice®.
SOURCE Loblaw Companies Limited