Stuart is a franchisee – and cannabis retailer
April 28, 2022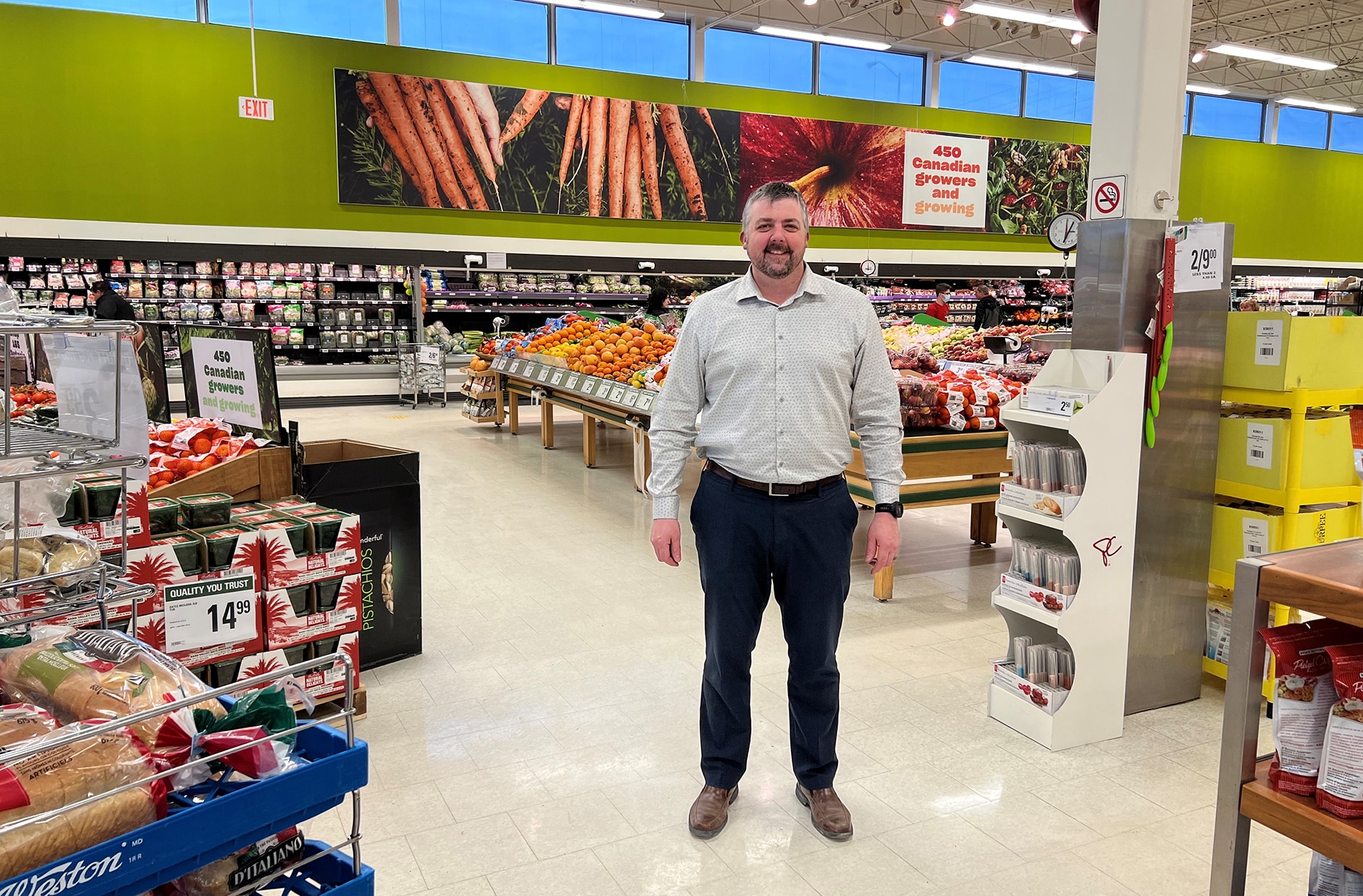 Stuart Parker tries to always have his finger on the pulse of what's next in grocery retail. After the 46-year-old owner of Parker's Your Independent Grocer® (YIG) in North Bay, ON purchased the franchise in 2013, he quickly set about making changes. He expanded the organic produce department, rode the keto wave, and now offers one of the largest gluten-free selection in the city.
This spring, Stuart will take another big leap when his store becomes the first Loblaw retail cannabis operation in the province. The C-shop is quite a big endeavour involving a lot of paperwork and construction —  the cannabis operation can be adjacent to the store but requires its own separate entrance.
"It's always cool to be the first but it's a lot more work because there's a lot more you need to learn," Stuart says.
Despite whatever obstacles may have come his way, he sees the potential of retail cannabis for his operation and thinks that as a trusted brand in the community, customers will feel comfortable shopping there. "That definitely gives us an advantage," he adds.
If Stuart is willing to take calculated risks with his business, it's because it's a business he knows well — after all, he's been working in and for grocery stores since he was 15-years-old in his native New Brunswick. A few years later he moved west to North Bay for school but that didn't work out, he says. He did, however, take a part time job at the YIG as a butcher and was eventually offered a job teaching butchering at the community college.
"My dad always told us to get a trade and work in that trade to get ourselves through school," Stuart explains. When the teaching position dried up in 1999, it didn't take long until he became a meat department manager at the YIG, a job he held until 2007 when he was offered a meat specialist role at Loblaw corporate for the Franchise team. For six years, he was basically on the road with the other operations specialists. "I learned from the best in the business," he says.
It's a job he loved but with a young family back in North Bay, it could also be difficult. In 2013, when the opportunity to own the YIG came up, Stuart took it.
"To be honest, I didn't really think I had a shot. I was never really intimidated by interviews and all that stuff but I also didn't have the breadth of experience to manage a 50,000 square foot store. It's a big transition from managing a department of 20 employees to managing the 160 or 170 I have now."
He admits he probably should have made changes more gradually at the beginning, but chocks that up to his nature. "I'm always looking at what we can do improve the customer experience and looking for ways to grow."
The decision to sell cannabis stems from that attitude, Stuart explains. "It's a tough market right now in food and we sell everything else: beer, wine, food. Why not give up 160 square-feet to get in the game and offer my customers the convenience of picking up their cannabis when they're grocery shopping?"
While he's owned the YIG for close to a decade, Stuart says he's never bored. "It's just exciting and no two days are the same. Ultimately, I love food and I love people and that's what I do for a living. There's a pride factor as well. My name is attached to the building, so I owe it to my community to do my best."