The President's Choice® team gets innovative with insects
TORONTO, March 6, 2018 /CNW/ - One of Canada's most trusted brands has made its first move into sustainable insect protein with the introduction of President's Choice® 100% Cricket Powder. Proudly farmed at a cricket farm in Canada, this product answers the need for great tasting protein, produced in a more sustainable manner.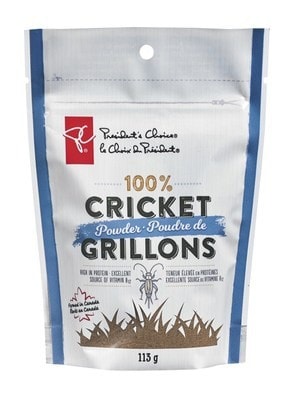 "With our President's Choice® brand we're always looking to bring the new and the next to Canadians," says Kathlyne Ross, VP of product development and innovation at Loblaw. "By making products like Cricket Powder widely available in our grocery stores, we are giving Canadians the option to not only try something new, but to also make a conscious decision on what they eat and how it impacts the environment."
While new to Canadian culture, 80 per cent of the world's population already incorporates insects into their diet in some form. High-protein cricket powder can be easily added into baked goods, smoothies or meals, to provide high levels of protein, B12, calcium and fibre. Crickets are a versatile ingredient that bring a subtle earthy flavour to food, or if used in small amounts, no taste at all.
"We are honoured to be working with the President's Choice® team to bring sustainable food solutions to consumers," said Jarrod Goldin, President, Entomo Farms. "We are striving to take the next step to ensure innovative, inspiring and most importantly conscious food options are available for Canadians and we believe cricket powder is just scratching the surface." 
Fast facts about cricket powder: Cricket flour is packed with vitamins and minerals. Once again, on a gram-for-gram basis cricket powder can outcompete some of our healthiest food options.1 Cricket flour, due to its neutral flavor, is actually meant to be put into lots of different recipes. Crickets need 12 times less feed than cattle, four times less feed than sheep, and half as much feed as pigs and broiler chickens to produce the same amount of protein.2 They require significantly less water than cattle rearing.
Available now, consumers can find President's Choice® 100% Cricket Powder on shelves at their local Loblaw stores. For more information and all of the President's Choice® recipes, visit pc.ca.
About Loblaw Companies Limited Loblaw Companies Limited is Canada's food and pharmacy leader, the nation's largest retailer, and the majority unit holder of Choice Properties Real Estate Investment Trust. Loblaw provides Canadians with grocery, pharmacy, health and beauty, apparel, general merchandise, financial services, and wireless mobile products and services. With nearly 2,500 corporate, franchised and Associate-owned locations, Loblaw, its franchisees, and Associate-owners employ approximately 200,000 full- and part-time employees, making it one of Canada's largest private sector employers.
Loblaw's purpose – Live Life Well® – puts first the needs and well-being of Canadians who make one billion transactions annually in the companies' stores. Loblaw is positioned to meet and exceed those needs in many ways: convenient locations; more than 1,050 grocery stores that span the value spectrum from discount to specialty; full-service pharmacies at more than 1,300 Shoppers Drug Mart® and Pharmaprix® locations and more than 500 Loblaw locations; PC Financial® financial services; affordable Joe Fresh® fashion and family apparel; and three of Canada's top consumer brands in Life Brand®, no name® and President's Choice®.
_____________________________ 1 https://www.cricketflours.com/5-reasons-you-should-be-eating-cricket-powder-cricket-flour/  2 http://www.fao.org/docrep/018/i3253e/i3253e.pdf
SOURCE Loblaw Companies Limited