Akila's unexpected climb up the ladder
April 9, 2021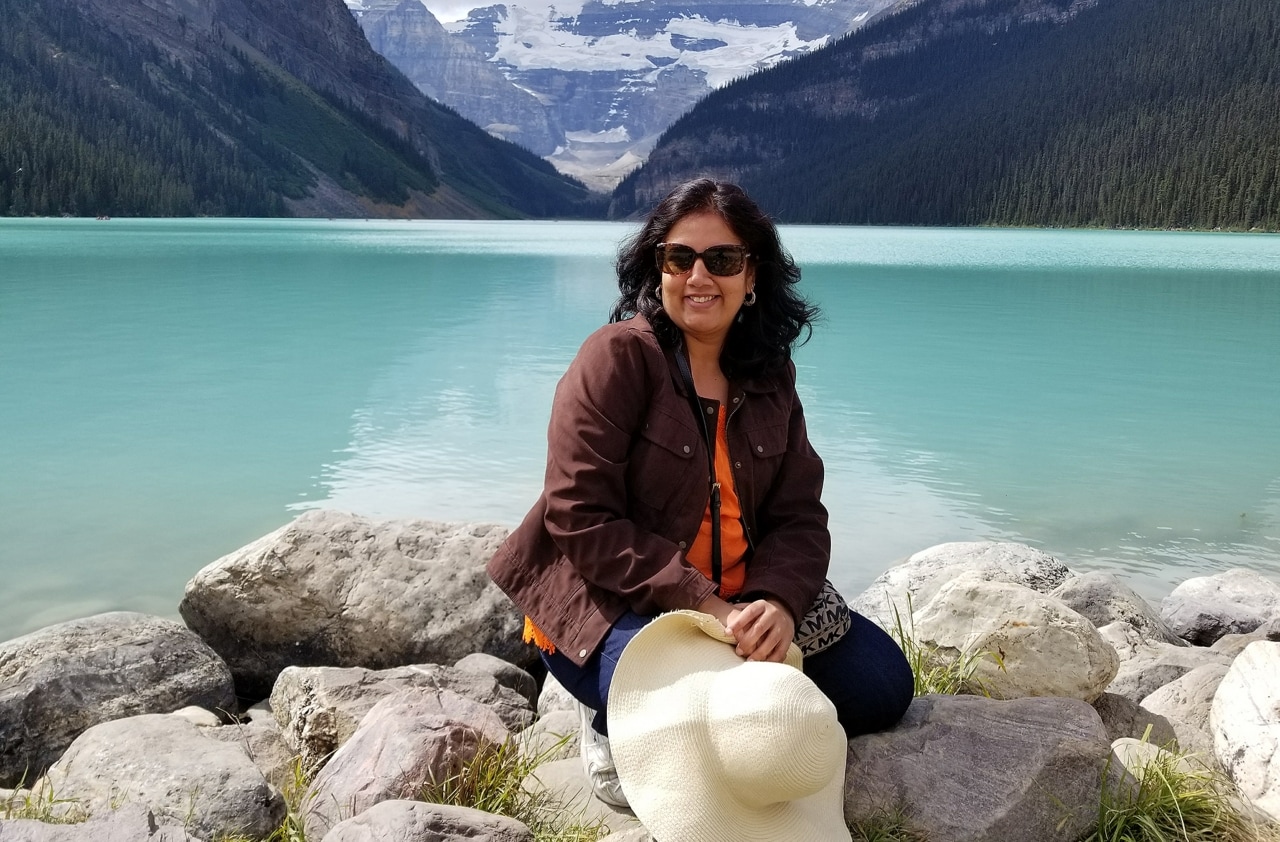 Akila Narayanan, Director, Technology – Supply Chain, reflects on how her two-week temporary position became a two-decade journey. 
***** 
Two months after landing in Canada from Abu Dhabi, I was hired as a temporary Administrative Assistant at Loblaw for two weeks. My dream was to be a teacher, as my background was in psychology. However, the job market opened the doors for me as an admin assistant so that's where my career journey began. Looking back, I would have never expected it to take me to where I am 20 years later: Director, Technology – Supply Chain at Loblaw Technology. 
When I was hired, I didn't know what Loblaw was. The temporary agency called me and told me to come to work the next day. My original two-week contract was extended several times and during that time, I continued to look for a more permanent job, both internally and outside the company.  
When my husband found a job, I needed two weeks off to settle my kids — who were 2 and 7, at the time — in daycare. As a temp, that's normally not an option. My manager, however, didn't even pause when I mentioned it; he walked directly into the HR office and said, "She is going on a two-week break and she is coming back after. Let's make it happen." That was a defining moment that I still cherish, and I could never be more grateful as it made me realize that I wanted to stay with Loblaw long-term. After about a year, my role was turned into a full-time position. 
Since the start of my journey here, I have held various roles across the organization including but not limited to Finance, Data Governance, Category Management, Promotional Strategy, SAP Program, Supply Chain and Technology. As some would have guessed by now, I didn't have the clearest career path in mind when I started. My guiding philosophy has always been, "If I am no longer learning, I'm ready for a change." Even after the past 20 years at Loblaw, I'm quite certain there are still a lot of things I have yet to learn. 
For those who are starting their careers, this is the best advice I can offer: apply for that job you want, even if you don't check all the boxes. If you don't shoot that shot, you will never know what it could become or lead to.
For some of the roles I've held, I didn't have the experience or the educational background listed in the description, but I always gave it my best effort to learn. 
Be a self-advocate, share your vision. Make your interests known. If you don't advocate for yourself, why would anyone else? It is also especially important to keep an open mind, get out of your comfort zone, make connections and be curious about new things. Rather than being discouraged by a challenge, ask yourself how you can overcome it using your strengths and ability to adapt.  
Lastly, growing doesn't always have to be vertical; it can also be lateral. Sometimes to move up you have to move across. Through lateral moves, additional opportunities and skillsets can be taken on to further prepare yourself as a future leader. Ultimately what will help you build a successful career is being honest with yourself, being open-minded to new opportunities, and being curious about as much as you can, so go out there and make it happen!