Ange-Lyne signs in
October 26, 2020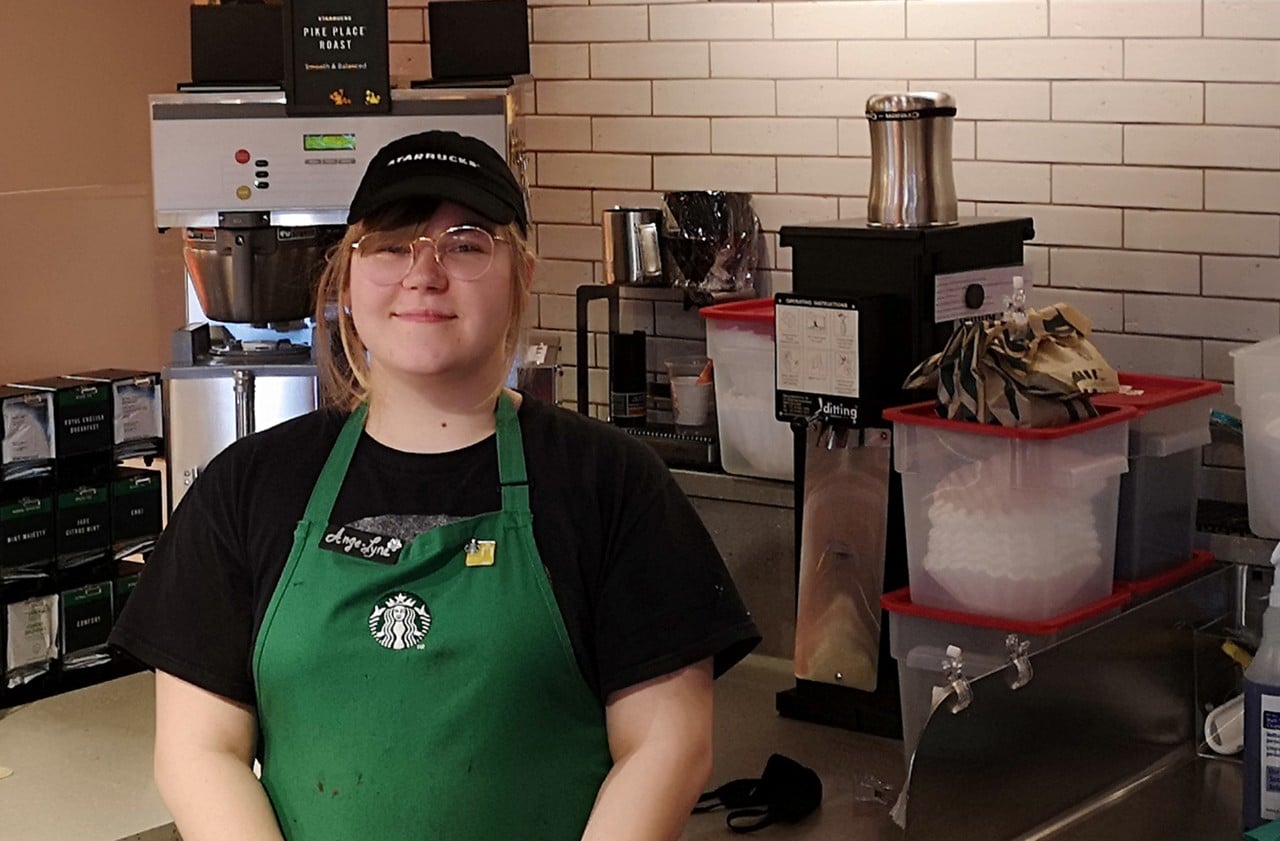 Earlier this summer, a manager at a Loblaws® store in Ottawa captured a short video of a heartwarming scene: 21-year-old barista Ange-Lyne Patenaude using sign language to communicate with a regular customer who is deaf and usually gives his order by typing it on his phone.
"I was super-nervous," Ange-Lyne recalls. "I was worried I was going to do something wrong. We usually call out the drinks, like 'Here's your tall Pike with cream.' So, I did my best to sign that."
That first time, she didn't get it quite right, but the customer — who was clearly surprised and pleased — smiled and showed her how to use the proper signs. Ever since then, she's been communicating with him via sign language.
"It definitely makes a difference because I'm sure he doesn't get that everywhere," she says. "And it was also really nice to get his order through and treat him with the same connectivity we want to give to every customer."
Ange-Lyne, an animation student at Algonquin College, became interested in sign language before she even met the customer. Her boyfriend wanted to learn because he was thinking of going into languages and working with kids, so she started picking it up, too. They started with a sign language book that had simple signs for letters, numbers and common words, then moved onto an app called Sign School that has video tutorials.
But when Ange-Lyne mentioned how she was spending her spare time to her manager, it went from a simple hobby to an opportunity to go above and beyond for a customer.
First, she searched for a video that explained how to sign Starbucks drinks, so he wouldn't have to pull his phone out. But she's continued learning. Now, Ange-Lyne knows how to sign her name, how to ask about his day and how to say thank you. She's not a pro yet, but they can now have simple conversations. "He'll tell me little things like, 'Oh, I made my mask,'" she says.
Ange-Lyne has always cared a lot about customer service, but she says getting to talk to a customer and maybe even make their day better feels especially important right now. "We're literally being asked by the government to stay away from each other, so it's nice to do what we can to still stay connected."
But nothing has been as transformative as getting to sign with her regular customer. In fact, the other baristas have started to learn and now practice their sign language skills so they can communicate with the customer, even if Ange-Lyne isn't there when he comes in.
"It's just really cool to be able to connect with someone, even if you don't fully speak the same language," she says. "I look at it the same way as if I learned a little bit of French or a little bit of Spanish for anyone, you know? It's actually a little easier to learn than a foreign language!"