Devon's community connection
February 15, 2021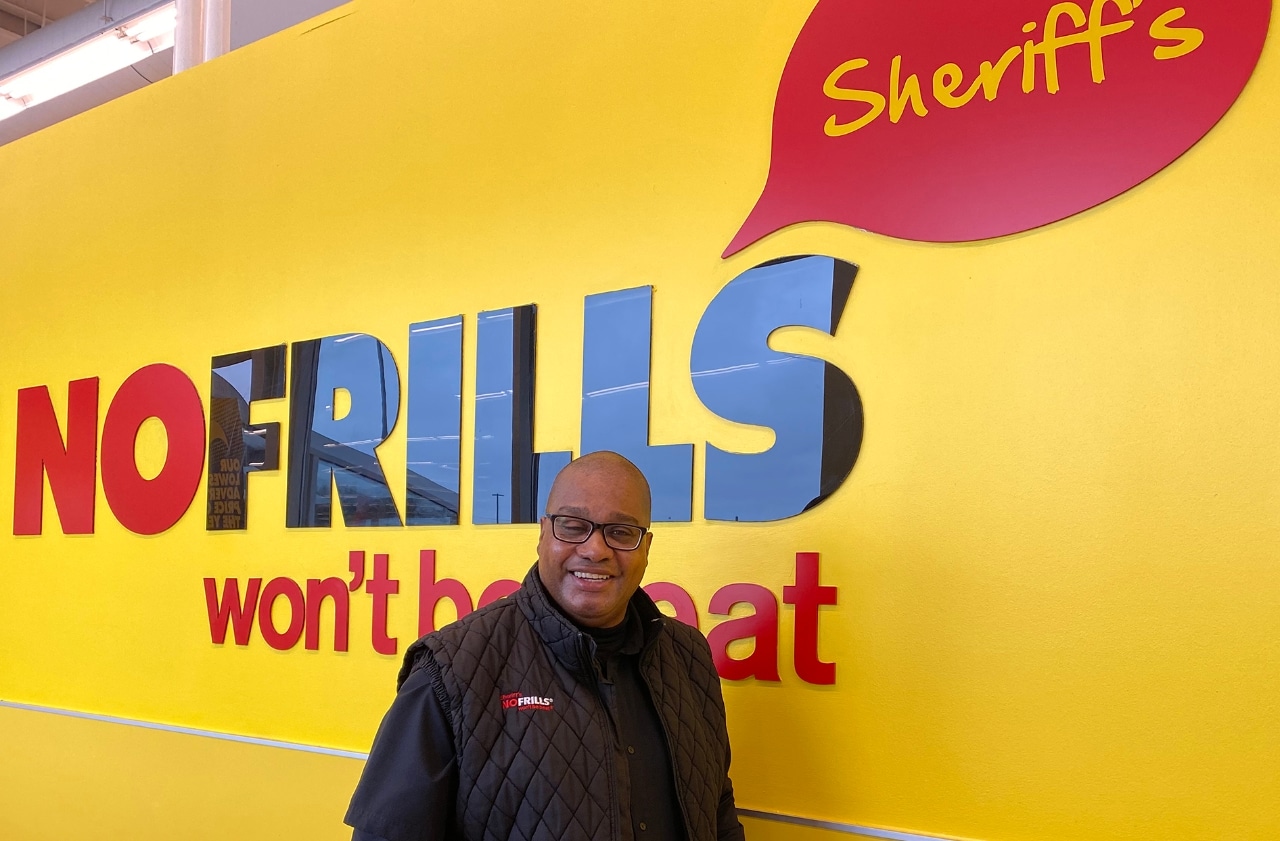 Devon Sheriff, store manager/franchisee of a NOFRILLS® location in Etobicoke, Ont., describes his journey so far as "the typical immigrant story." Born in Kingston, Jamaica, he spent much of his childhood living with his grandmother while his mother moved to Canada to seek more opportunities and a better life.
By the mid-'70s, she was financially secure enough to send for Devon and his brothers. The family shared a three-bedroom apartment with Devon's aunt in the Jane and Finch area of Toronto, and he soon started doing odd jobs, like delivering newspapers and selling ice cream to help with the bills. Then, when he was 15, his mother encouraged him to get a job at a nearby grocery store.
"It was my mother's observation and quick thinking that got me the job," he says. "She approached the district manager at the time and as she recounts it, said, 'We shop here every week and you have no visible minority kids working in the store. My son needs a job.' The manager agreed and I was hired."
What Devon didn't know at the time was that she'd put him on the path toward his future career.
That after-school job as a buggy boy and parcel pick-up clerk led to more senior jobs within that store. By the time he graduated from college, he was offered a full-time job at another location. Devon made the jump to a Fortinos® location in the early '90s, for better opportunities. Before long, he was promoted to assistant store manager.
Soon after, he was offered a chance to join the Fortinos Franchise Program. A year after completing the program, he was offered his first franchise: Fortinos at Albion Mall. It closed to give room to a brand-new Loblaw® store in the same location. On November 22, 2006, Sheriff's NOFRILLS opened its doors.
"I always joked with my friends that I would own a 'big' Jamaican store in the neighbourhood," says Devon.
"Now, the community has a grocery store owned by a visible minority owner who grew up within the neighbourhood and whose mother still resides there today. And it's not just me. At my location, the employees reflect the racial makeup of the neighborhood and about 90% live within the community."
That strong connection became particularly evident last summer, when it seemed the whole world was talking about racial injustice and Black Lives Matter. Watching these incidents of police brutality and the subsequent protests, Devon's still not sure what emotion he felt the most: angry, upset or disappointed.
"Why did we need to see another senseless killing to understand what is happening in our communities?"
Still, there was one positive outcome. "The protests opened up conversations about policing in our neighbourhoods among employees," he says. "It was good to see that we are all united for the same cause."
But Devon says the reason those conversations could even happen comes down to trust and connection. That's why his advice for other store owners who are looking to create a safe, inclusive and supportive work environment is to keep the lines of communication open.
"We share our experiences and support each other," he says. "We're always there for our employees."