Franklyn's voice is heard
June 10, 2021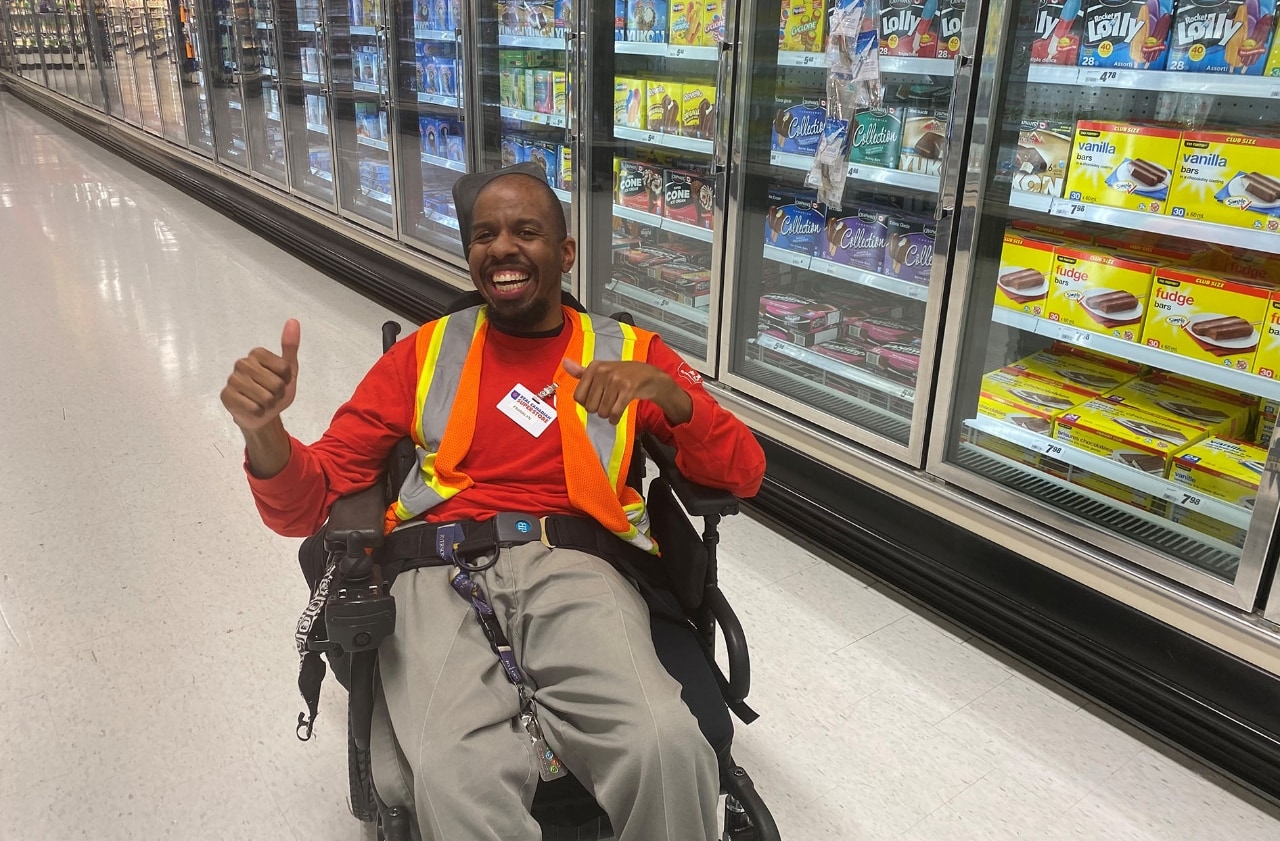 Even from behind his mask Franklyn McFadden's smile is hard to miss; It stretches from ear to ear and is often accompanied by his affable laugh.
It's this energy that earned him a recognition award for great customer service soon after joining a Real Canadian Superstore® in Scarborough, Ont., last November.
There, he directs customers through the line-up at the front of the store. It can be a stressful job, particularly during COVID-19, says store manager Chris Harper. "Franklyn is the quarterback. He's managing all the customers and telling them which lane to go through, so we're nice and smooth on the front end.
Like many other aspects in his life, Franklyn faces these challenges head on. Born with cerebral palsy, a group of conditions that affect a person's mobility, Franklyn uses a motorized wheelchair to get around, which he hopes to one day outfit with a sound system.
"I want to be heard coming down the street," he shares in the latest season of Employable Me, an award-winning documentary series on AMI-TV that highlights Canadian job seekers who set out to prove that having a physical or neurological condition shouldn't make them unemployable. Franklyn's episode, which aired on June 9th, follows him through the interview process at the Real Canadian Superstore and at home, where he's lived on his own for a decade.
"My journey towards employment hasn't always been seamless," he says. "Because I'm currently occupying a wheelchair, an employer is going to look at me and ask: Can I accommodate you?"
The store has stepped up in this regard. Since Franklyn joined, it installed electronic sensors in the bathrooms, retrofitted the sinks and moved the coffee station so he can use it.
"He's certainly not shy to give feedback. Anytime I listen to him, I think of potential blind spots we've had and wonder how many customers have come in through the years with ability issues and not been able to reach the PIN pad, for instance," says Chris.
"I'm going to be the first person that says: How can we make this better? I pride myself on being an advocate for myself and anyone in need. The company has done a wonderful job addressing the larger issues and, in those conversations, there are teachable moments," Franklyn adds.
While having his face and story talked about on camera initially threw him for a loop, he gradually became more comfortable as he got to know his colleagues.
"The show was able to highlight my journey along with its strengths and challenges and for that I'm grateful," he explains, noting that a job developer connected him to Employable Me, which reached out to the Superstore.
Chris says hiring Franklyn also aligns with the company's values, and its focus on diversity, equity and inclusion – particularly the ABLE@Loblaw pillar, which is about making jobs accessible and inclusive.
For Franklyn, the job has been life-changing. "I feel seen and heard." On his first day, as captured in the show, Chris tells Franklyn he needs to be louder — something that comes quite naturally to the 34-year-old.
"It's a huge store and being loud is a requirement. Finally, I'm being paid for something I do every day."
Season 4 of Employable Me premiered on June 9th at 8 p.m. Eastern on AMI-tv. You can catch the season premiere on the network's website or the AMI-tv app for iPhone and Android where you can also stream past seasons.