Johnathon skills up
February 9, 2021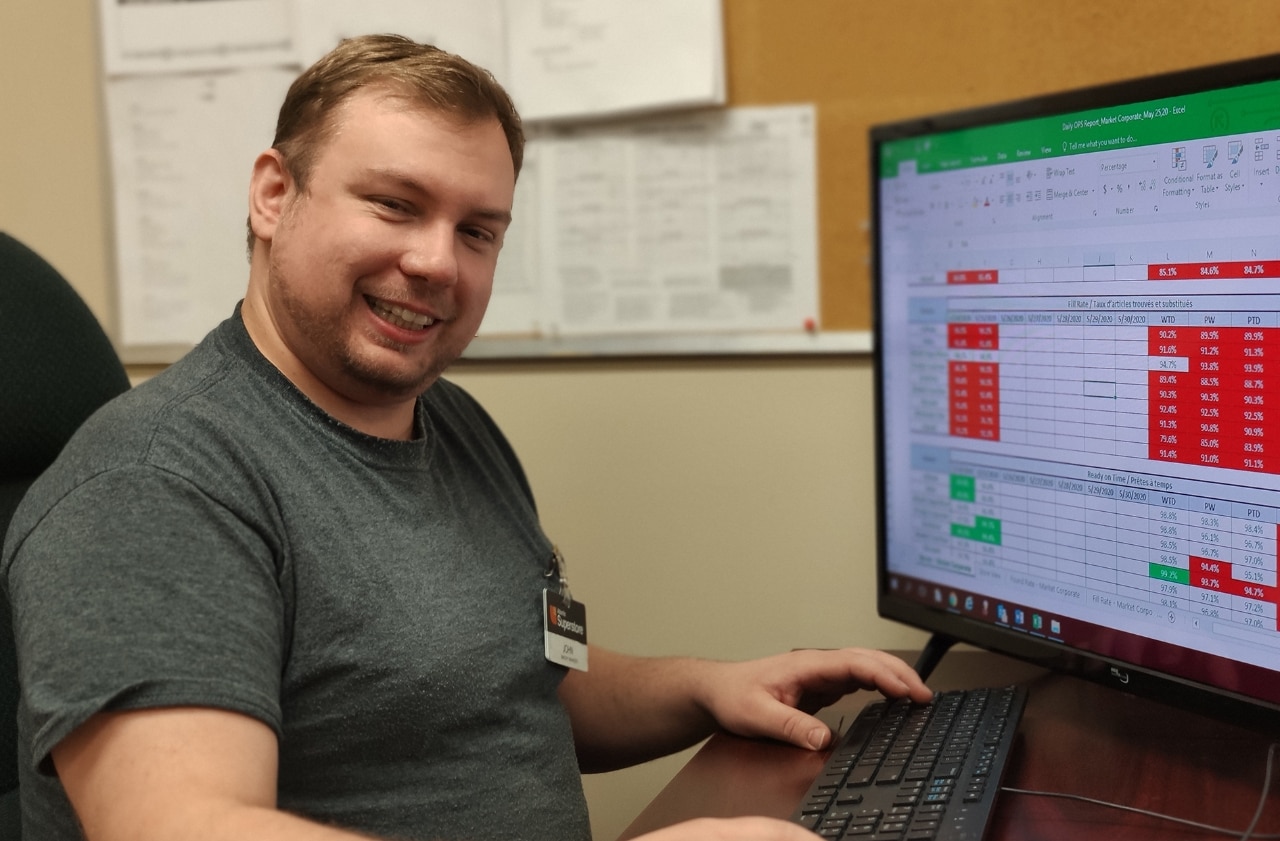 Johnathon Day, a Bakery Department Manager at an Atlantic Superstore® location in Moncton, has always thought of himself as a "computer guy" — but he didn't know much about coding or interpreting analytics. So, when Loblaw began offering a self-study program aimed at helping colleagues gain new skills, he jumped at the opportunity.
"I've always been into computers and technology, but I never really put forth the effort to try and learn that stuff myself," he says. "But then the opportunity came up and it sounded cool! I thought, 'Okay, I'll try it and see how it goes.'"
When the program launched last January to store colleagues, the company's goal was to prepare for an increasingly digital business world that would require particular skills, skills existing colleagues may not yet have. It included two programs — Introduction to Analytics Certificate and Coding for Beginners.
Colleagues were excited to receive this type of training; more than 400 people signed up for either coding or analytics, with a few people, like Johnathon, opting to do both.
He learned mostly via video classes, with regular quizzes to help test his knowledge. Coding lessons covered best practices, different programming languages, including JavaScript, Python and SQL, and how to test code. But the analytics course was his favourite.
"I like puzzles and extracting certain data from a massive data set; it's like finding a bunch of puzzle pieces," he says.
But even he was surprised at the module he liked best. "The one that really stood out to me was Microsoft Excel. Now, that's a program I use every day, and it was a 17-hour course. I thought it was going to be boring. How much could there possibly be to learn about Microsoft Excel? But I was blown away. The instructor was very engaging and upbeat, and I learned a lot."
A 16-year veteran of the company, Johnathon has been a manager for years and has managed several departments. The next logical step for him would usually be assistant store manager followed by store manager, but after taking these courses, he sees other possibilities.
"I like problem-solving, so I would definitely like to do something that builds on what I've already learned about data analytics," he says.
But more importantly, he thinks offering upskilling opportunities to store colleagues shows how much the company values this segment of its workforce.
"I mostly chose to do this because it was something new, and it was something I wouldn't have necessarily pursued on my own — especially if I had to pay the tuition myself," he says. "Having the company offer these courses definitely shows me that they do want to build up people who are already working for them."