Kelsey is making waves in Kelowna
September 2, 2021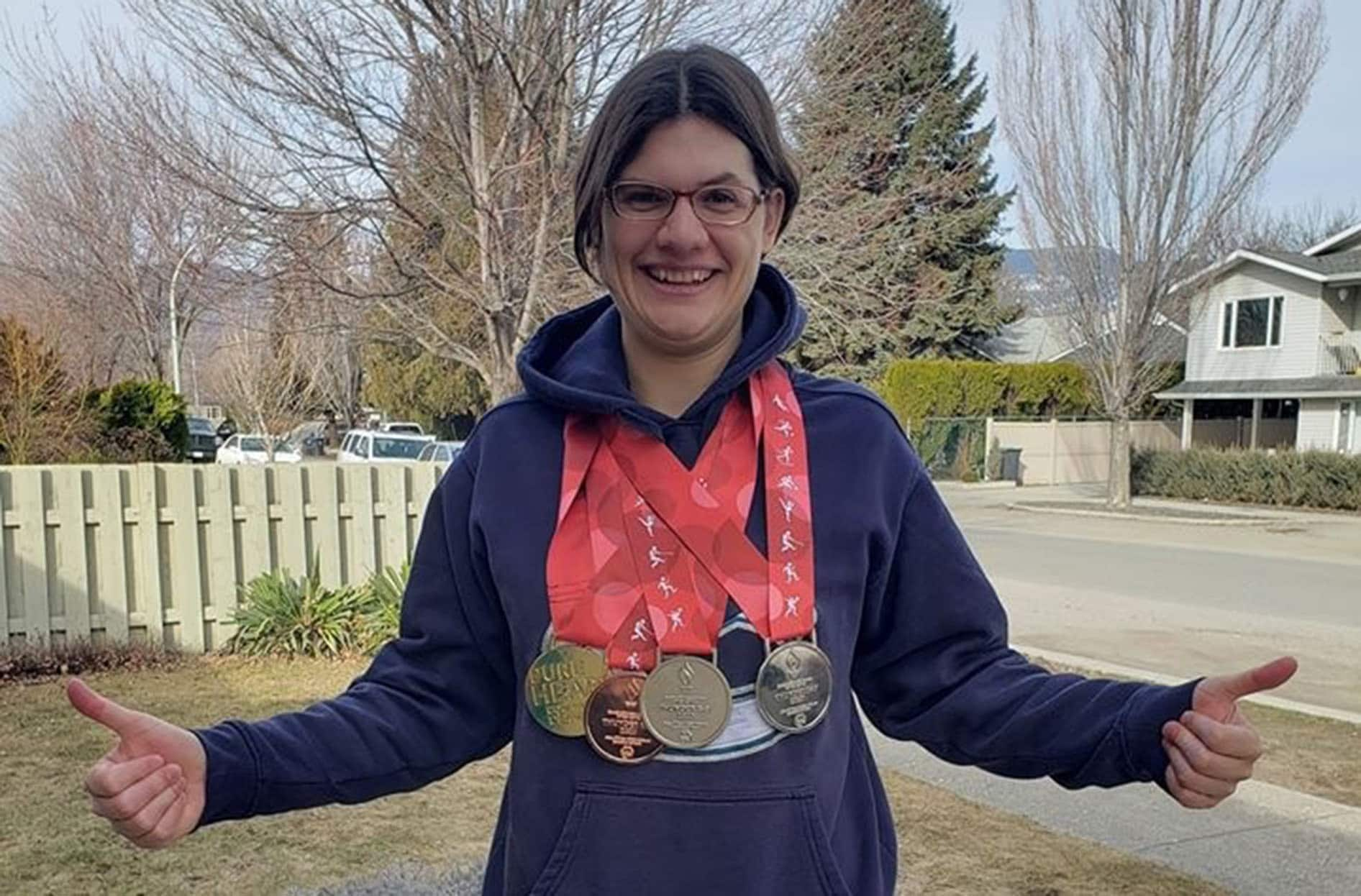 An international swimming and skiing champion works at Peter's Your Independent GrocerTM (YIG) in Kelowna, B.C.—when she's not in the pool, hitting the gym, or crushing at-home workouts, that is.
Over the last 11 years, Kelsey Wyse has won three gold medals in swimming at the Special Olympics World Games in Abu Dhabi and Dubai, one gold and two silver in Los Angeles, and two silver medals for alpine skiing in Idaho.
"In L.A., I finally got to meet my all-time idol, Michael Phelps," says Kelsey. That was in 2015, when ESPN did a feature on Kelsey, Phelps, and a Paralympic swimmer.
Kelsey started swimming when she was around 13 years old. When she hit puberty, though, some health issues pulled her out of the water. She inexplicably began having up to 20 seizures a day, and she and her mother, Donna Willms, spent about a year at BC Children's Hospital while doctors tried to figure out what was going on.
When Kelsey was 18 months old, she'd had significant seizuring that caused some brain damage, ADHD, and further epilepsy, says Donna. But since then, her seizures were under control. Until this point.
"She was really going downhill quickly," says Donna. "Eventually, they found a lesion in the left temporal lobe of her brain and determined that removing that portion of her brain would cause less brain damage than if she was left to continue experiencing the seizuring."
After the surgery, the seizures stopped.
"It was nothing short of miraculous," says Donna. "But it certainly left her with significant deficits as well."
Kelsey's swim coach welcomed her back with open arms.
"It was a little rough at first," she says of her reintroduction to the pool. But soon, she was qualifying for every regional, provincial, and national Special Olympics competition.
"She just blew everybody away in the water," says Donna.
Kelsey's next challenge is adding a new sport to her roster: cross-country skiing. She's training for the 2022 Special Olympics World Winter Games in Russia.
"A couple of the cross-country coaches said, 'Listen, we want her,'" says Donna. "Because all the swimming she does is long-distance and she has such endurance."
Kelsey is busy training six days a week, but she says her part-time job at the YIG fits well into the mix. She typically works in the produce department, and in the spring, helps out in the garden centre.
"It's really good," says Kelsey. "And I have two really great bosses. Anytime I tell Peter that I'm off going to worlds, he just says that he wants to tell the whole world," she says, laughing.
In 2019, when she came back victorious from Abu Dhabi and Dubai, Peter threw her a party at the store with her fellow employees.
"They are all extremely proud," she says.