Listen up, Karin has something to say
October 9, 2020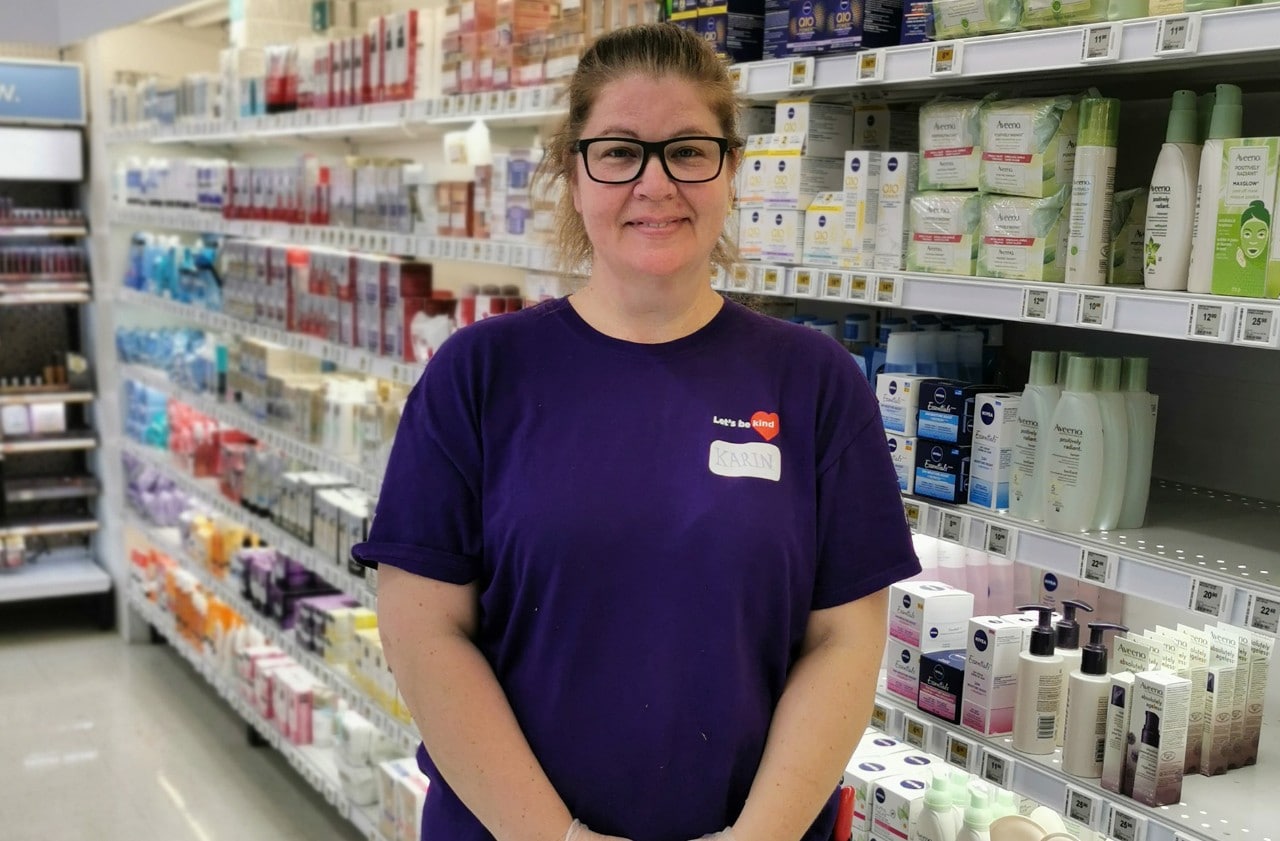 When she's working in the health and beauty department at the Real Canadian Superstore® location in Nanaimo, B.C., Karin Medd carries a pen and paper.
That way, if someone approaches her with a question, Karin can gesture to her ear to communicate that she's deaf, then offer the pen and paper to the customer. The widespread use of masks due to COVID-19 makes lip-reading impossible, so these tools are key to her communication.
In March, Karin walked into the store seeking a job. She's non-speaking and fluent in sign language, so she brought along an interpreter. They met store manager Greg Welgan, and Karin expressed how difficult it was to find work.
"Before meeting Karin, I didn't really understand what it would be like for someone with a disability," says Greg. "So after listening to them, and recognizing her talent and drive, Karin was someone we needed on our team."
Karin attended training with the help of an interpreter to learn some of the store terminology. Then, she started on nights with another health and beauty colleague who learned some basic signs.
"Soon after, she wanted to start getting more involved with customers," says Karin's department manager, Angela Macaulay, and since those discussions, Karin has transitioned to morning shifts. "A lot of our morning customers now know that she doesn't hear, and they will write notes to her if they need help."
What does Karin like about her job? "All of it," she writes. "I've learned a lot about all different things and have met so many people. I couldn't be more grateful to the store and Greg for giving me a chance to work here."
Karin's also happy that the store saw her for who she was, and not her disability, unlike other potential employers in the past.
For 18 years, Karin was a stay-at-home mom, raising two children. Then she entered the workforce, finding a job at a poultry-processing plant in Alberta where she worked for four years before deciding to move back to Nanaimo to be closer to family. When she started at the store, she says she wasn't nervous about customer service, though she did feel a little shy.
Now, however, she's more than succeeding; she's thriving. "I can't stress how much this has worked out," says Greg, who is now learning sign language. "She's an integral member of our store."
Angela seconds that. "She's a wonderful person. We're lucky to have her. She's hard-working, she's intelligent."
With National Disability Employment Awareness Month upon us, Karin has a message for other people with disabilities: "I want to let people like me know that we can do it."