Magic mirror on the wall
October 21, 2020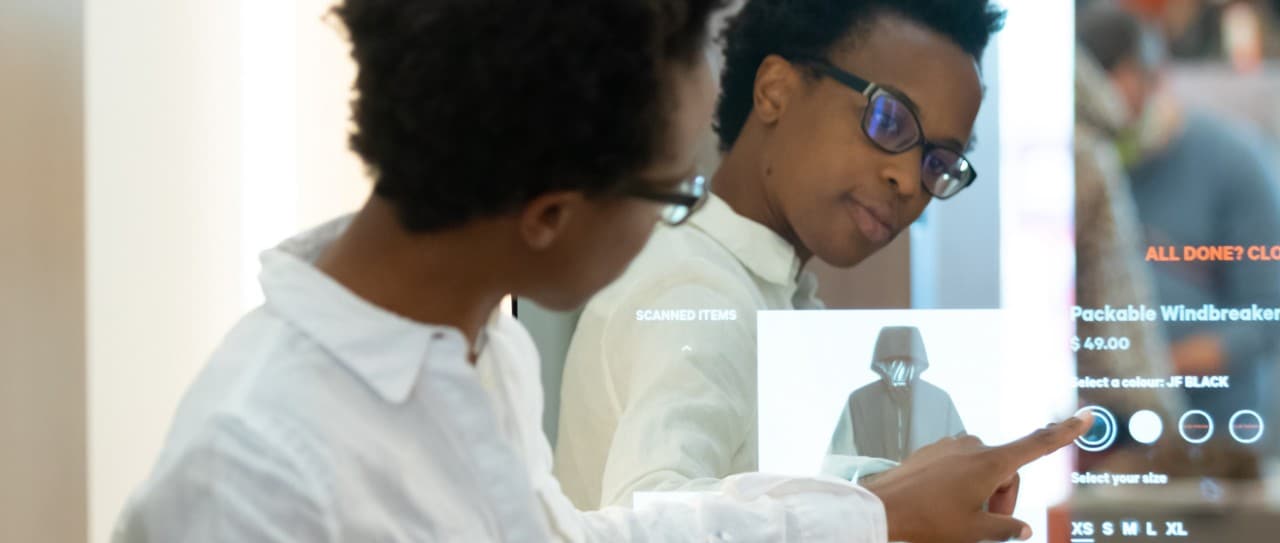 At the newest Joe Fresh® store in Toronto, the fitting rooms feel like they're from the future. The flagship, which opened in September at the historic West Block building at Bathurst and Lakeshore, has five interactive smart mirrors customers can use when trying on clothes.
The mirrors are large digital touchscreens, enabling customers to scroll through and select other sizes and colours of clothing articles they've brought into the room. If they need assistance, they request "personal shopper," which sends a notification to a colleague wearing a smart watch.
Marty Oakes, Senior Director of Operations for standalone Joe Fresh stores, tells us the Joe Fresh brand is one of the first in Canada to adopt the new technology.
"There's been a ton of excitement about the mirror," he says. "It's innovative and engages our customers and enhances their instore experience."
Earlier this year, before COVID-19, the team began a pilot, testing out smart mirrors at two locations in the Toronto area. Though the pilot was cut short due to the pandemic, Marty says they were still able to gather valuable feedback from customers
"Our customers valued the experience, as well as the ability to receive faster service while in the store," says Marty. "They also found the experience to be convenient and innovative — something they could interact with, something that they hadn't seen but had heard about."
The mirror allows customers to give a rating when they finish using it; during the pilot, the majority gave it five out of five stars.
Colleagues had a similarly positive reaction.
"We have a younger colleague base, and they love using the technology," says Marty. "A lot of times, they're asking if they can run the fitting rooms."
Throughout COVID-19, it's been useful having the mirrors at the new location. They give the option to reduce face-to-face interaction with colleagues, which has been welcome for some shoppers. And, of course, the mirrors are sanitized after every use.
The mirrors have the ability to be leveraged in more influential ways. For example, since each item that enters a fitting room is scanned into the mirror by a colleague, the store can now collect data on how often certain items are tried on.
"We can start to see things like, 'This dress went into the fitting room four different times but nobody bought it,'" Marty says. "'What about the dress is causing people to not want to buy it?' It can provide us a lot of analytics on individual items."
He sees the mirrors potentially playing a role in store allocations, markdowns, and even clothing design. In the future, as additional capabilities are assessed, the Loblaw Innovation and Joe Fresh teams will continue to monitor feedback and apply the learnings towards business opportunities.
At their kick-off location, they've certainly created a lot of buzz since opening. "It's been interesting to see the different groups of people and colleagues coming to the store just to see the fitting rooms and test the technology for themselves."