Marla's positively marvelous
December 7, 2020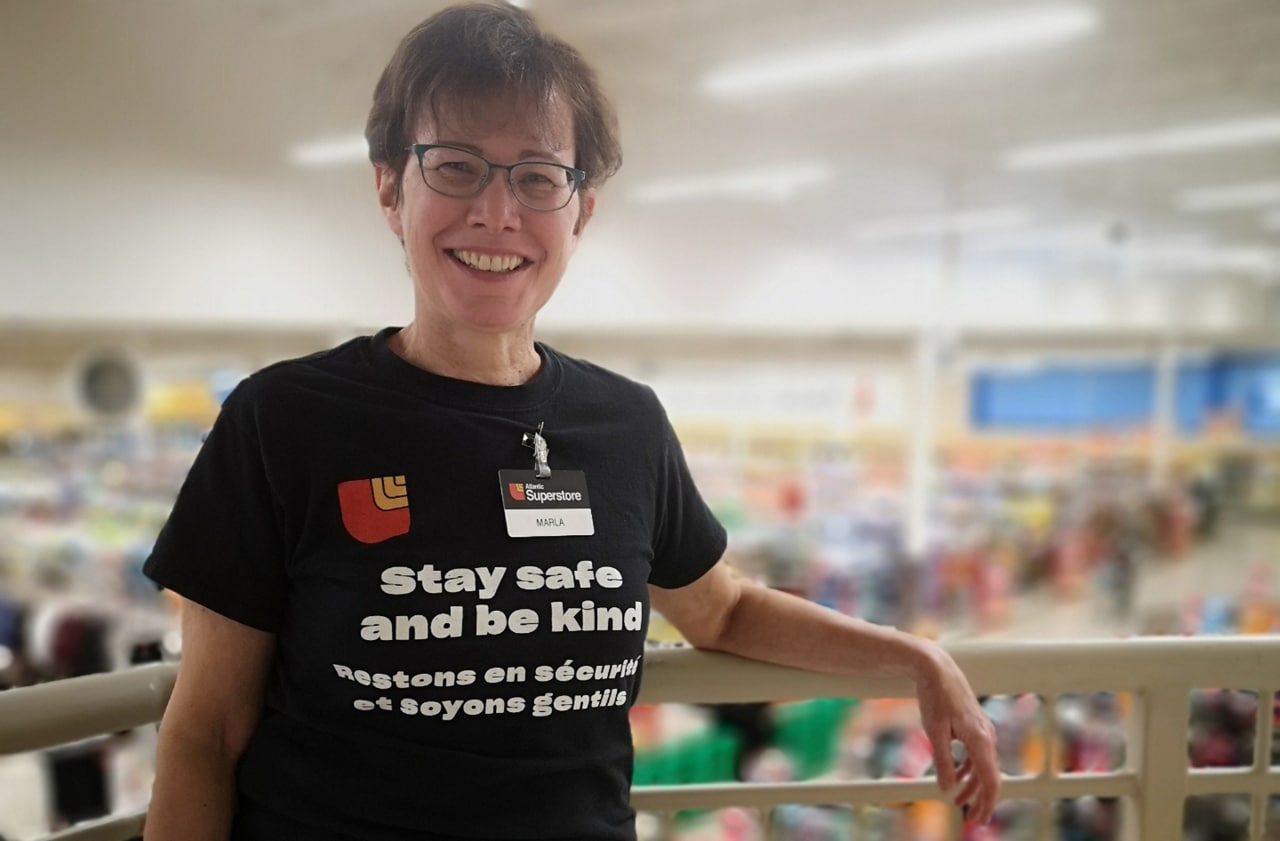 Marla Berry is the kind of cashier who will try to make you smile as you pass through her checkout lane.
"I just want people to leave happy," she says. "If somebody comes through and they don't look like they're having a good day — which, especially now, is common — I just want them to be able to get through the line quickly, and if I can help them leave in a better mood, then good."
The stereotype of East Coast kindness holds true for Marla, who's a part-time front-end colleague at the Atlantic Superstore® location in Moncton, N.B. One of her daughters was already working at the store as a cake decorator when Marla got a job there in May 2019.
Her family had recently moved to Shediac, 20 minutes outside of Moncton, and Marla was having a hard time finding students for her piano lessons because she doesn't speak French. So she applied to the store, even though she'd never worked retail before.
That didn't matter; customers love Marla. In July, her store manager received a letter from a customer, raving about Marla's warmth and friendliness. And several others come specifically to her at checkout. "There's a few people that, when we chat, it's like a table tennis game, going back and forth with comments," Marla says with a laugh.
One of her regulars is Mr. Chocolate. When the man first came through her line, he was buying a handful of dark chocolate bars. "My favourite!" Marla said in her usual upbeat tone. As she rung him through, he said, "Next week, you're getting one."
Three or four times since, he's given her one of the bars he buys, despite her initial protests. "That's just a sweet thing," she says. "Literally!"
Not every customer is friendly or courteous, though, and the stress of COVID-19 has taken a toll on all of us. When interacting with customers who seem frustrated or anxious, she tries to be gentle with them.
Even Marla isn't always feeling her best — she's human, after all. On those days, she says she puts her negative emotions in a box in her head when she comes to work.
"There's no reason to give that to customers," she says. "And there's usually something that happens in the first two or three people I interact with that's a really fun thing or good thing. And I'll say, 'You just made my day, thank you.' Or I'll tell them they get a gold star for best customer of the day."
Keeping a positive attitude is a skill Marla has honed over time. Years ago, her twin sons were born premature, with several developmental challenges. Now grown, they both reside in Nova Scotia, one of whom lives in a group home.
"A lot of people would say to my husband and I, 'How do you deal with that?' And we said, 'Look, you can laugh about something or you can cry about it.' And I think it's just easier to have a sense of humour about things. There's a time for it and a time not for it, I know that. But positivity works a whole lot better than the negativity."