Nina discovers her native tongue
September 30, 2021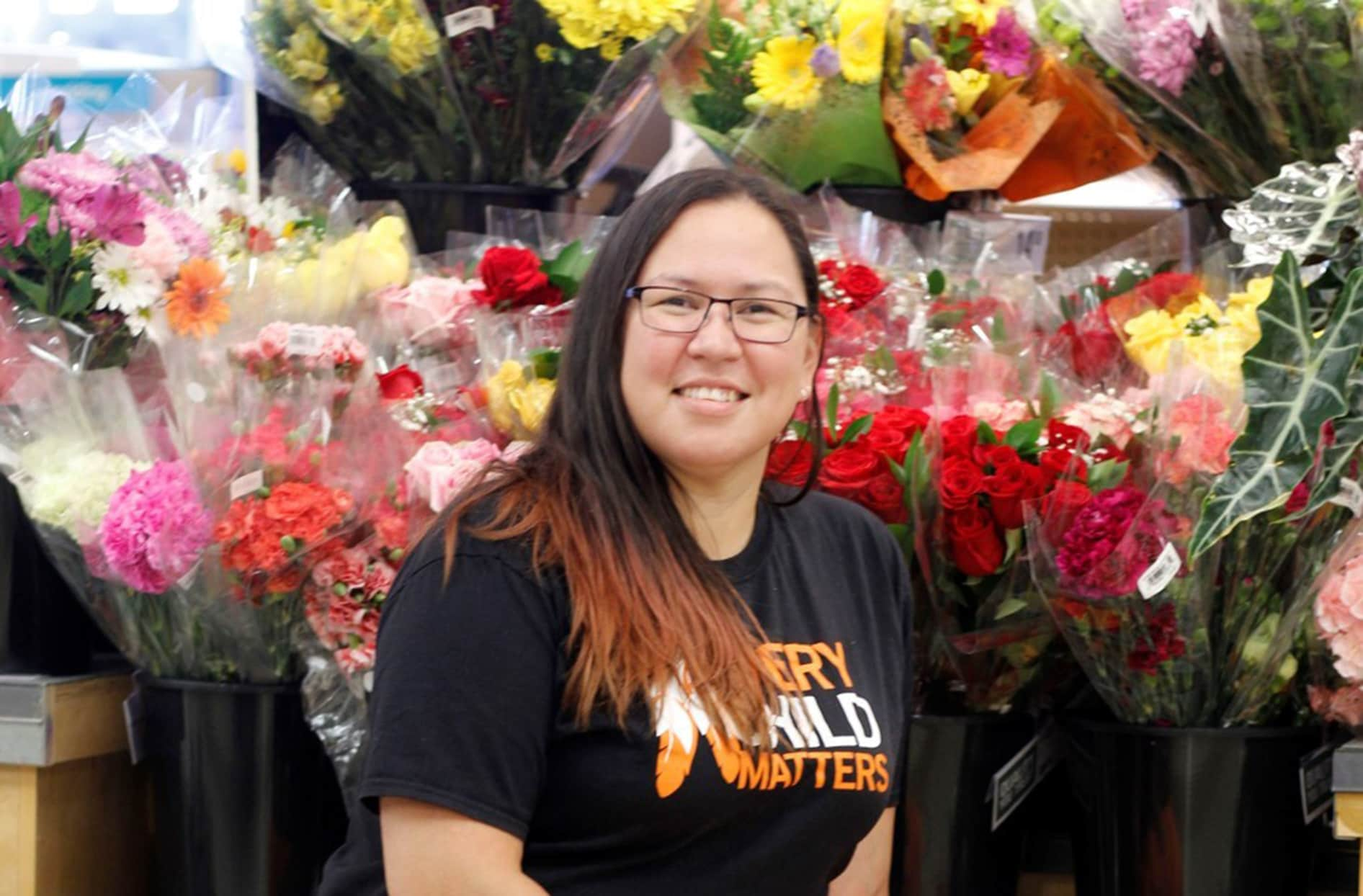 Nina Jane Trudeau grew up hearing her grandparents speak Ojibwe, or Anishinaabemowin. She'd serve them tea, then sit in the living room and listen to them talk and laugh.
"I didn't really know what they were saying, but the sound of it made me extremely happy," says Nina, a member of Wiikwemkoong First Nation and a part-time cashier at Valu-mart® on Manitoulin Island in Ontario.
On the eve of Orange Shirt Day, Nina shares that although she learned some basic Ojibwe in school, after she moved to Sudbury as an adult, that part of her identity fell dormant.
"I was working in a bar, I fell into the bar scene, I fell into alcohol for a short period of time, and I put all that stuff aside," she says.
A few things brought her back to the language.
She met her partner, a West Indian man who'd always loved Western movies. He started asking her how to say certain words in Ojibwe.
Then her grandmother passed away, and Nina felt a strong need to pursue the language.
"I realized that the speakers I know are passing on, and I essentially waited too long to ask them questions," she says. "I also want to pass the language on to my daughter."
Nina decided to apply to a program at nearby Algoma University—a Bachelor of Arts in Anishinaabemowin. Between her studies and raising her two-year-old, she knew her job at Valu-mart would have to take a temporary back seat.
In the spring, she approached store owner Andrew Orr about taking some time off.
"Andrew is very understanding, very accommodating," Nina says. "He will always encourage us to do better and to be better, and if that means we have to leave the store to do it, then he'll support us 100%."
Nina has known Andrew for a long time—she first worked at Valu-mart when she was a teenager. Her sister has also worked at the store on and off for years.
"Working there, I get the feeling of family," she says. "Andrew makes you feel like you're at home; he makes you feel like you're part of something."
This summer, after remains were found at several residential school sites, Nina brought another idea to Andrew: a fundraiser for the National Centre for Truth and Reconciliation.
Andrew was immediately on board. They organized a day-long public event in the store's parking lot, raising $2,000.
They also worked together to put up a welcome sign at the store's entrance in English, Cree, and Ojibwe.
"To Indigenous people, the language is a part of the culture," Nina says. "You can't have one without the other."
When she goes to her Ojibwe classes, she brings her daughter so she can soak up the language too.
"I got to tell a few of my professors about how my grandfather attended the residential school at Algoma (in Sault Ste Marie, Ontario)" Nina says. "Now I'm going to school of my own free will and taking back what was stolen."