Plant local, think global
April 22, 2021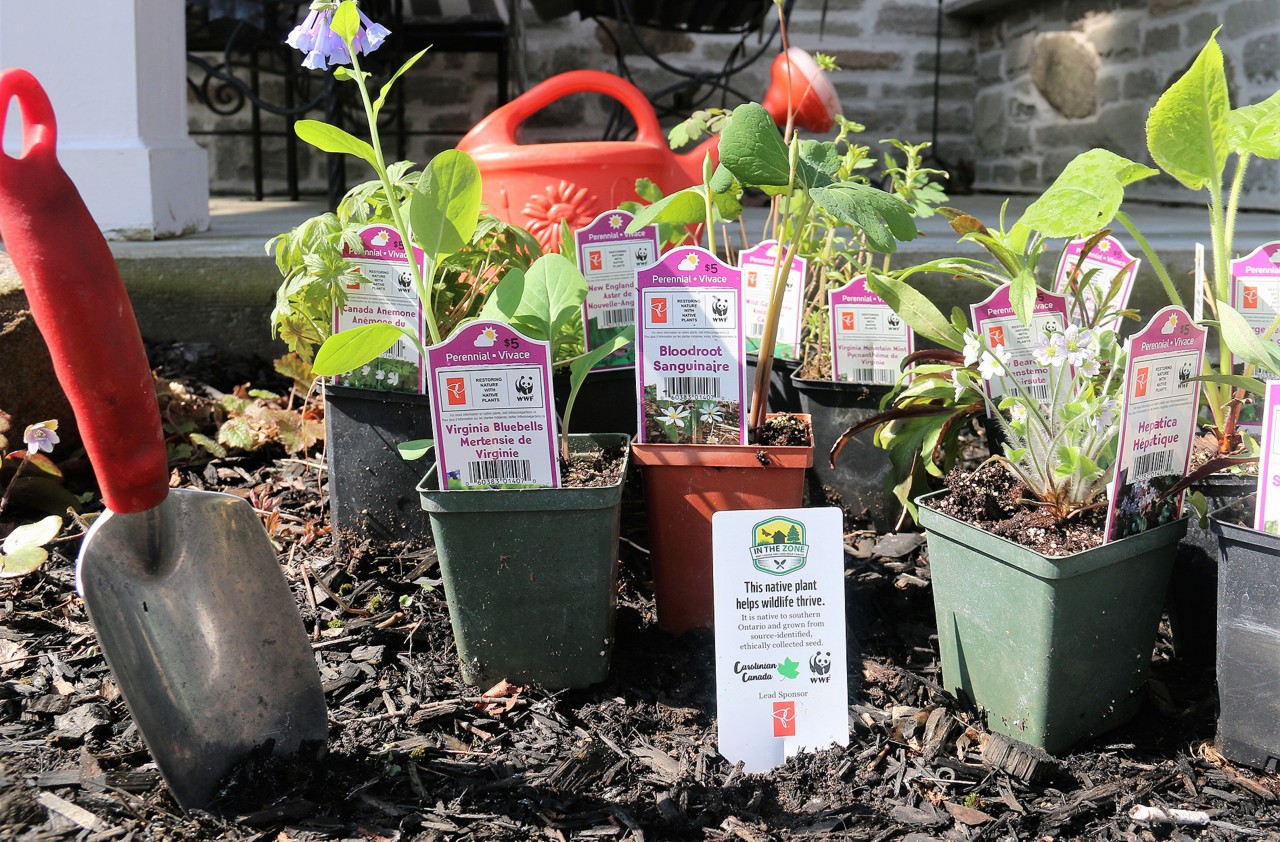 If you're going to be out there gardening this season, but haven't thought about what to include, native plants could be the answer. They're beautiful, colourful and good for local wildlife.
Native plants are, well, plants that have existed in a specific area for thousands of years, have co-evolved with the wildlife found there, and thrive in local conditions. But because there's been so much growth and development in so many urban areas (like the Carolinian Zone, for example), the places in which these native plants have always existed are diminishing and it's impacting the environment on a massive scale. Native plants can help our ecosystems get back on track. 
"If people start planting native plants, it encourages pollinators like bees, birds and insects to create a new ecosystem, to restore biodiversity loss and the ecosystem that we're losing," says Leeanna De Angelis, Merchant, Garden. "That's really the goal here."
Last year, in partnership with World Wildlife Fund Canada (WWF-Canada), Loblaw made native perennials available in 35 stores across Southern Ontario. This year, by mid-May, the program will expand to 143 garden centres across Ontario and Quebec.
We work with growers who specialize in growing native plants — which can be a challenge because there aren't a lot of them out there.
"The program is up to 42 species but the exact list of what each store gets varies by location," explains Leeanna. "The growers grow plants that are local to their area, which means we can only service stores within a certain region. So, a store in Toronto wouldn't necessarily receive the same plants that a store in Gatineau would. This ensures the plants that customers buy will flourish since they're already part of that ecosystem. " 
Leeanna is hopeful that our partnership with WWF-Canada, the continued expansion of the program, and the demand from customers will help grow the community of local Canadian growers we need to supply these local plants. 
Given the gardening trend in 2020, Leeanna says they're more prepared this year and were able to adjust the amount of product in stores — even with the already early demand.
Leeanna is already looking ahead to 2022, and what we can potentially do in other provinces. 
"It's a bigger part of Loblaw's commitment to conservation and restoration efforts," says Leeanna.
"Because the issue of pollinators is so widespread, I think people are starting to understand that as we talk about the loss of bees, it's not a problem that's only going to affect your garden — it's a problem that will affect crop reduction for food supply across the world. We do our part in Garden but it extends to everything. Everyone can reap the rewards of it." 
For those of you that lack that green thumb, we've got you covered because native plants are also super-easy to take care of. Most are perennials, so you plant them once and they come back every year, and they're adapted to the local climate and conditions. So, not only will they make your garden look gorgeous, they also have a positive environmental impact, and provide habitat for local wildlife.
This is just one reason why we are proud to be recognized as one of Canada's Greenest Employers, an award that was announced earlier this week in The Globe and Mail. 
Remember, once you're done with your pots and flats, return them to any of our garden centres for recycling. 
"We take pots and flats from all stores and garden centres, and we even give you 100 PC OptimumTM points (between May 6 and June 18) for each one you return," adds Leeanna. "We've recycled over eight million pounds of plastic. Let's keep going!"