Richard drives in silence
September 13, 2021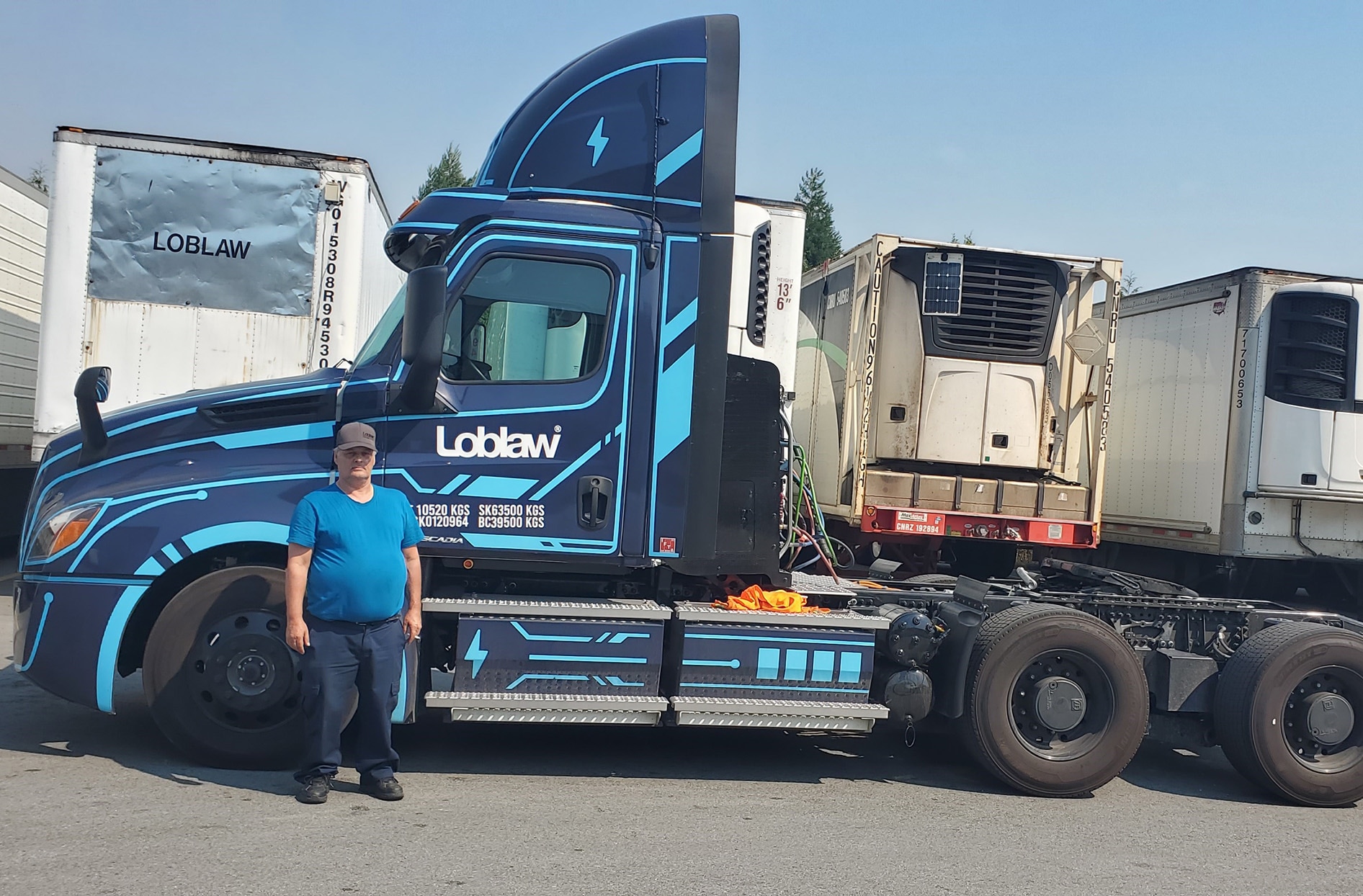 After 40 years on the road with the sound of a motor as his almost constant companion, getting used to the quiet of an electric truck has been the biggest adjustment for Loblaw driver Richard MacDonald. "Most of the time, the only thing you can hear is the hum of the tires."
In July, Richard became the second driver to trial the Freightliner eCascadia for Loblaw. He used the 100% electric 18-wheeler from Daimler North America to haul grocery and other retail items between the Distribution Centre in Surrey, British Columbia to stores in the Squamish area.
Sound—or lack thereof— aside, it handles no differently than any other truck, Richard asserts. He does, however, need to plan his routing differently. The truck can travel about 400-km before it needs to be charged. Unlike a diesel truck, which can fill up at any roadside station, the eCascadia can only be charged at the Loblaw Distribution Centre due to its specific power requirements.
It takes between six and seven hours to fully charge but when we get our order of five eCascadia's, which are slated to arrive sometime in 2022-2023, it will also get a supercharger that reduces charge time to under two hours. "That will make a big difference," Richard says.
During the trial, Loblaw collected useful data like details on how far the trucks can go on a single charge and what kind of weight it can pull, which will help us push ahead with our plans to completely electrify our corporate fleet by 2030. The trucks are only one part of our company's sustainability efforts when it comes to transportation. The solar panels powered the trailer's refrigeration unit. This is in line with our Corporate Social Responsibility initiatives of reducing our carbon emissions by 50% by 2030.
Before joining Loblaw a few years ago, Richard never imagined he'd be driving an electric truck. But he says that the shift to electric makes a lot of sense, not only from an environmental point of view, but from a practical one. 
"You're cutting out a lot of the maintenance when you don't have a motor," he says. "It's pretty incredible to see what has been done."
Curious co-workers always ask to look under the hood, Richard adds. What they find instead of the motor is the air conditioning system, which also cools the truck's battery when switched on.
When it kicks in, the sound reminds Richard that the truck is actually on. "Now, when I pull up next to someone, they don't even hear me."