Scott remembers his fellow soldiers
November 11, 2020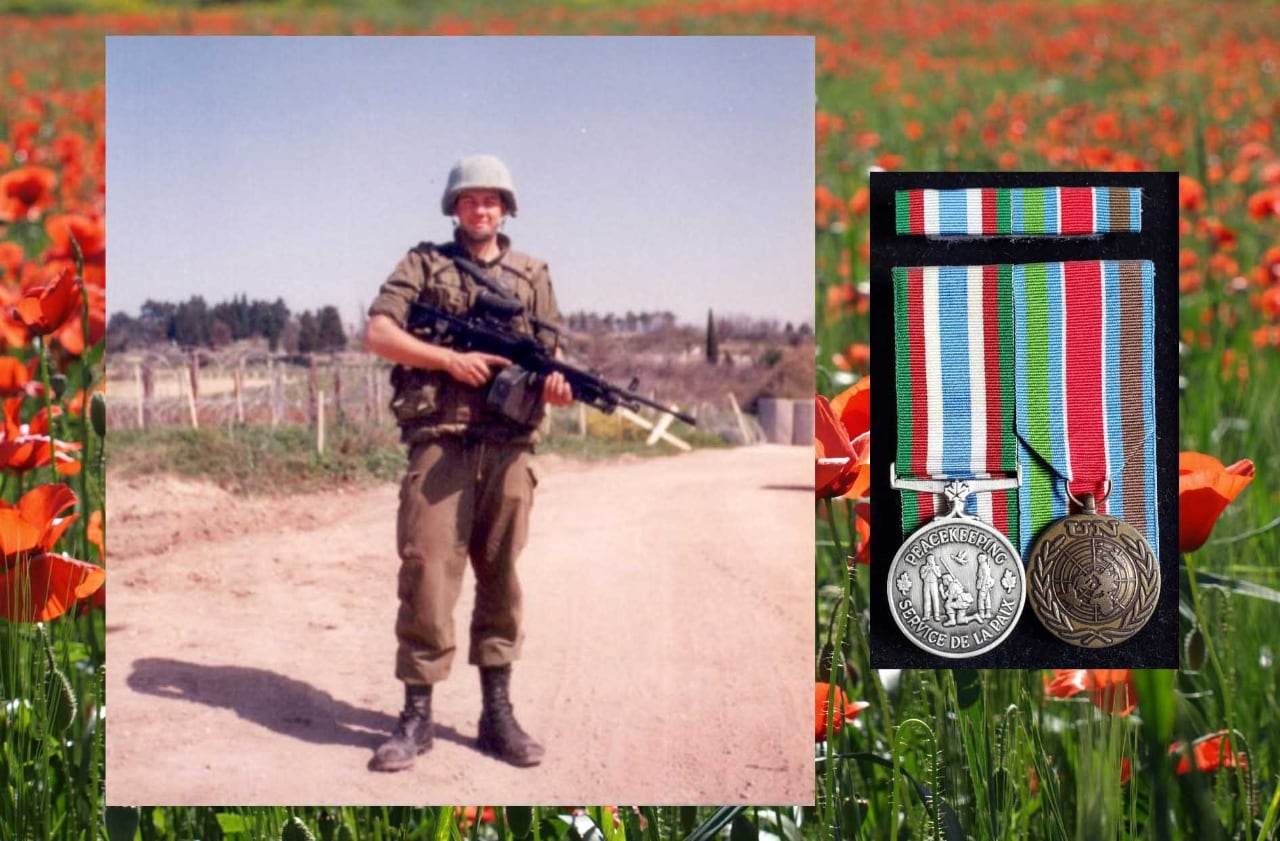 For Scott Winkler, Remembrance Day is personal.
It's about honouring the men and women — including those he served alongside in the Canadian Military — who made the ultimate sacrifice in the pursuit of peace and freedom.
Scott, a Transportation Reconciliation Specialist who typically works out of our Maple Grove distribution centre in Cambridge, Ont., served three years as a member of the 1st Battalion Royal Canadian Regiment in the early 1990s. He spent six months overseas on a UN-led peacekeeping mission during the civil war that ultimately led to the disbanding of former Yugoslavia.
"For me, it all started when I spoke to a recruiting officer at my high school's job fair during my senior year," Scott recalls. "It piqued my interest, so I signed up."
After weeks of interviews, physicals and aptitude tests, he was offered a full-time role in the regular forces' infantry division, where he developed the strong attributes the military is known for: teamwork, discipline, respect for authority, and the tenacity to get the job done. But it didn't come easily.
"The night before leaving for basic training, I didn't sleep, and I didn't sleep the night I got there either," says Scott. "I went a good 50 hours and hardly ate or slept because nerves were so high."
Indeed, the transition from the freedom of civilian life to the rigidity of the military was a culture shock. There's a bit of irony to the process, that one gives up their own flexibility to learn how to fight for the freedom of others. It's a willing sacrifice that's born out of the love for one's country, the respect for democratic and personal freedoms, and an inherent longing for peace. And that's what makes everything worth it.
"We were situated just outside of Zadar, a city in Croatia, moderating the zone of separation between Serbians and Croatians," Scott explains. "Our presence on both sides of the zone was to prevent war."
It was an expansive site riddled with road mines. During their last few weeks there, they escorted a mine-clearing operation while gunfire flew above them.
"Those six months felt like a lifetime."
Scott was grateful for the levity that New Year's Eve brought. He recalls being stationed in an OP (Observation Post), overseeing an area that was in the middle of a disputed zone which felt like the middle of nowhere, when midnight struck.
"The sky lit up with tracers and grenades. They weren't firing at each other; they were celebrating the new year. It was a nice break from everything, and a really neat thing to witness."
His efforts on that tour earned him two medals: one for the United Nations Protection Force, and the Canadian Peacekeeping Service.
Usually on November 11, Scott heads to his local Royal Canadian Legion branch to observe their Remembrance Day ceremony. While this year is different (Scott will commemorate the day with a walk to the local cenotaph to pay his respects), the sentiment is the same: honouring those who paid the ultimate price so we can enjoy the freedoms we have today.
"With a lot, if not all Remembrance Day ceremonies being cancelled this year, I hope that everyone can find the time on November 11 to take a minute and reflect on the sacrifices our soldiers past and present have made for our freedom."
Lest we forget.
At Loblaw locations across the county, we'll pause at 11 a.m. in a moment of silent remembrance for the brave men and women who gave their lives to make Canada the country it is today. We also pay tribute to the many Loblaw colleagues, like Scott, who have served, or continue to serve in the Canadian Armed Forces.