Varun and Rupali, power couple
June 3, 2021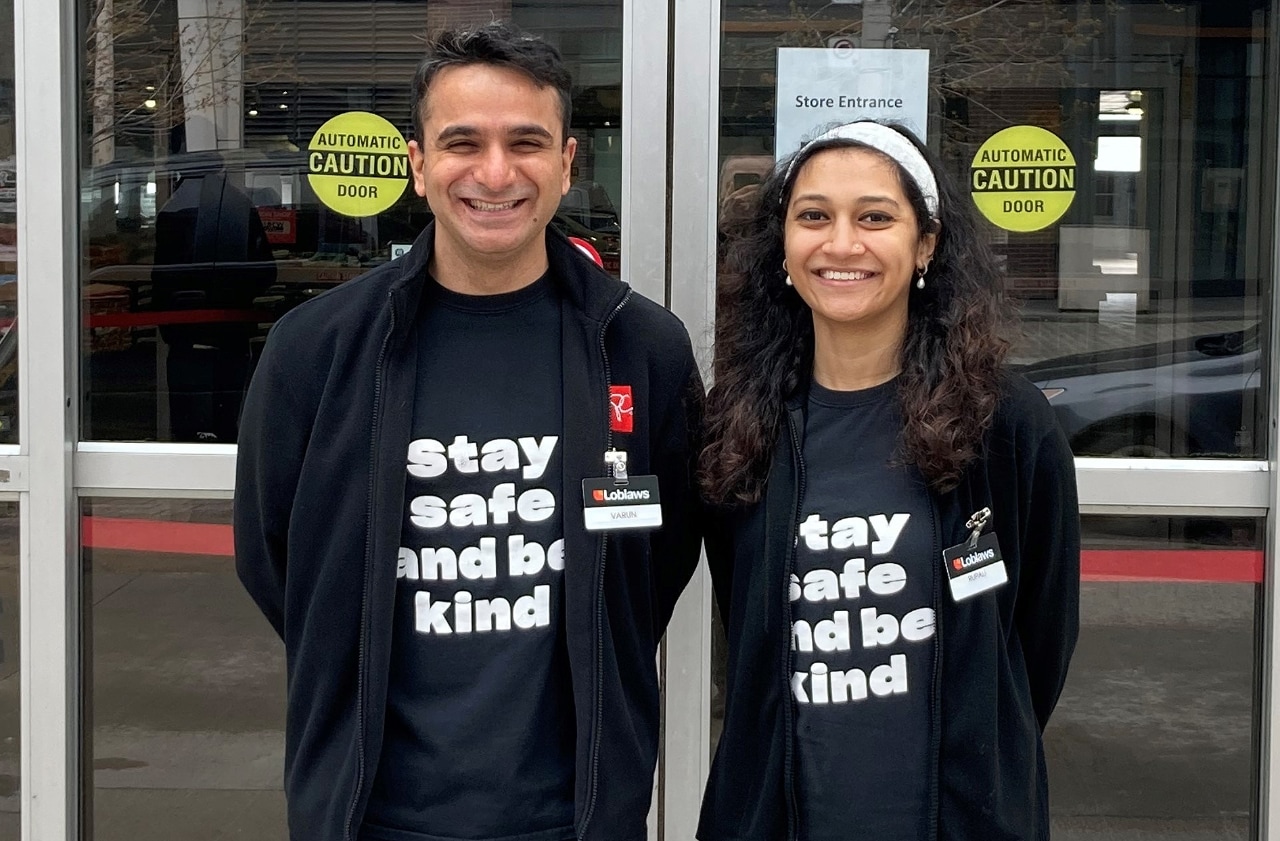 Just two months after Varun and Rupali Kapoor immigrated to Canada from India, the COVID-19 pandemic hit their new country. And five months after that, in August 2020, they became essential workers, getting part-time jobs as cashiers at a Loblaws® location in downtown Toronto.
"It's been quite a ride," says Varun. "We're looking forward to seeing this country in its full glory once it's safe to do so."
Cashiers have been vital during the pandemic, and Varun and Rupali are shining examples of how important it is to stay positive. The couple is leading the way in Customer OSAT Recognition in their store, something that isn't lost on either of them.
In early April, Varun also got a shoutout on Twitter from a shopper who was struck by his friendly demeanour and smile — "so big you could see it through his mask," the man wrote.
"Honestly, I don't remember him specifically," Varun says. "I wish I could!" Both he and Rupali seem delighted and a little mystified by the accolades.
"We haven't done anything out of the ordinary," adds Rupali. "We try to treat every customer the way we would like to be treated."
The couple isn't only on the frontline at Loblaws; for the last month, Varun and Rupali have also been working at mobile vaccination clinics, helping doctors with administrative tasks. They decided they wanted to help out more than they already were.
Talking to the couple, their charisma and kindness is obvious. They're bubbly, they finish each other's sentences, and laugh at each other's jokes. They met at a friend's wedding in India — "as Bollywood as it may sound," Varun says.
Back home, he worked as a dentist and Rupali as a teacher. He's awaiting his certification here in Canada, a process he expects will take two or three years.
"It's been tough, no doubt, because you want to get back into your own profession," he says. "But at the same time…" Rupali completes the thought: "…Loblaws has really accepted us with open arms, especially our team at the store."
Meanwhile, Rupali hopes to become a social worker in Canada, and work with children and families.
It hasn't been easy working as cashiers during the pandemic, but they both have a genuine desire to connect with people. Many customers are certainly starved for human interaction; some tell Varun and Rupali that they're the first person they've spoken to face-to-face in days.
"It's hard times lately, so I try to be empathetic," Varun says. "I'll ask people how they're doing, and keep the mood light with jokes and smiles."
Rupali, too, focuses on the positive. "Because we're all wearing masks, people are looking into your eyes more often when they speak to you. And smiles are often reflected in the eyes."
"Hers more than mine," says Varun, and they both laugh.